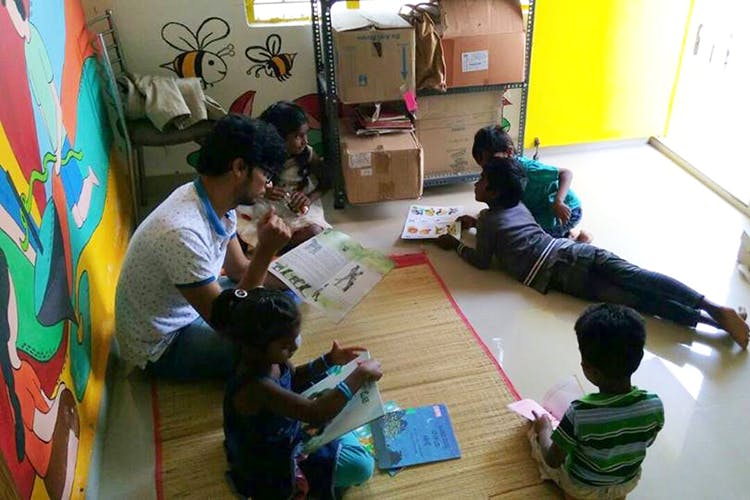 Volunteer At The Buguri Library, A Fun-Filled Learning Space For The Kids Of Ragpickers
Shortcut
In an old-age home, tucked away in Banashankari, lies a space for learning and fun for the children of the nearby slum. Set up by the NGO, Hasirudala, this community library is changing the lives of the waste collectors and ragpicker's children through a world of books and art.
A Better Tomorrow
The Buguri library at Banashankari was once an empty space above an old-age home that now stores over 2,000 books and a whole lot of hope for the ragpickers' children of the slums nearby. An initiative pioneered by Lakshmi Karunakaran, who is a part of the NGO, Hasirudala,  the library was started to give the children a fun-filled learning experience through books and other art and crafts activities. Equipping them with literacy and a safe learning space is a huge step in the right direction that is sure to make tomorrow a little more hopeful for these kids. Only 4 months old, the initiative is still growing and you can be a part of this growth by volunteering with these kids at the library.
Hasirudala is an NGO that works closely with the waste pickers of our society. From improving their working conditions to creating a brighter future for their children, this NGO is truly making a difference. Visit their website here to learn more about the noble work they do and maybe even sign up to be a part of the process.
Do Your Bit
Open from Wednesday to Saturday, between 4pm to 7pm, the library sees 300 to 400 children visiting through the week after school. Sundays are dedicated to art activities like painting and colouring from 10:30am to 1:30pm. Volunteers willing to help out with these activities, like reading out to the little ones or simply shadowing the full-timers there and organising the space, are always welcome. Moving forward, the initiative is planning to take the kids on field trips and picnics, so volunteering to chaperone these trips is something you can sign up for as well. If you think you have what it takes to brighten up the lives of these children, you can get in touch with the NGO through their website here. You can help out in the library or with the weekend arts and crafts activities. Work timings are flexible as long as you are dedicated and keep it consistent.
Comments