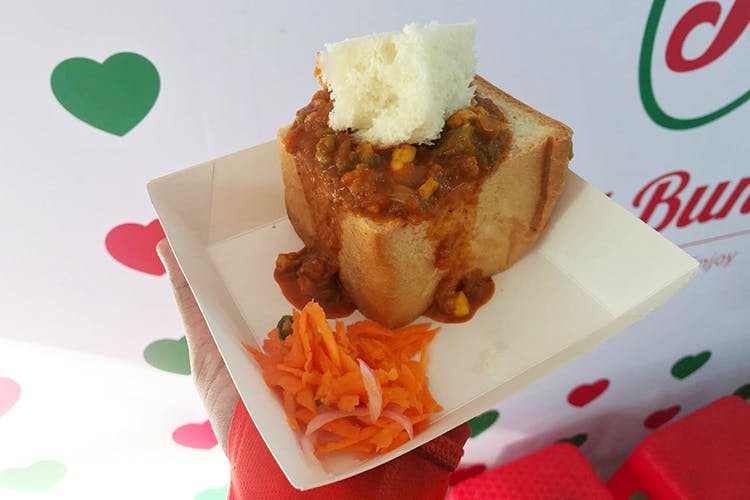 Hop, Skip, And Jump To This Jayanagar Kiosk That's Serving The South African Staple Bunny Chow
Shortcut
The Durban favourite bunny chow makes its way to Bangalore at this Jayanagar joint. Curious about what a bunny chow is? Head to Just Bunny to find out.
Chow Down
The dish's name, bunny chow, can raise some eyebrows. But it's got nothing to do with bunny rabbits, guys. It's a South African dish that originated in Durban's Indian community and it consists of a loaf of bread that is hollowed out and filled with a spicy curry. Trust Indians to come up with something creative and yummy. The curry is usually lamb, chicken or beans and is served with a portion of grated carrot, onion, and chilli salad called sambal. Just Bunny does just that but focuses only on vegetarian curries.
A small and quaint store on 4th Block, Jayanagar, patrons can choose from either soya, rajma, or paneer curry. Our pick is the paneer bunny chow that packs quite a punch. In fact, all the curries are spicy, so be sure to keep a bottle of water nearby, if you can't handle spice. Using cutlery is futile, so dig in with your hands and start off with the hollowed out piece of bread. It's going to be messy, so carry a napkin or ask for extra tissues. This is a one-dish meal, so go with an appetite. They do give you enough curry so it's easy to finish off the bread.
Take Home A Bunny
The bunny chows are available in two sizes — regular and mini. The mini is perfect for those 4 pm hunger pangs. But if you are feeling particularly ravenous, go for the combo where you can add a soft drink or an extra mini bunny to your meal. Takeaways are available too with packing charges an extra.
Price: Regular bunny chows start at INR 65 while minis start at INR 40. Combos start at INR 80.
More Information
Just Bunny
Nearest Metro Station: Jayanagar
Comments