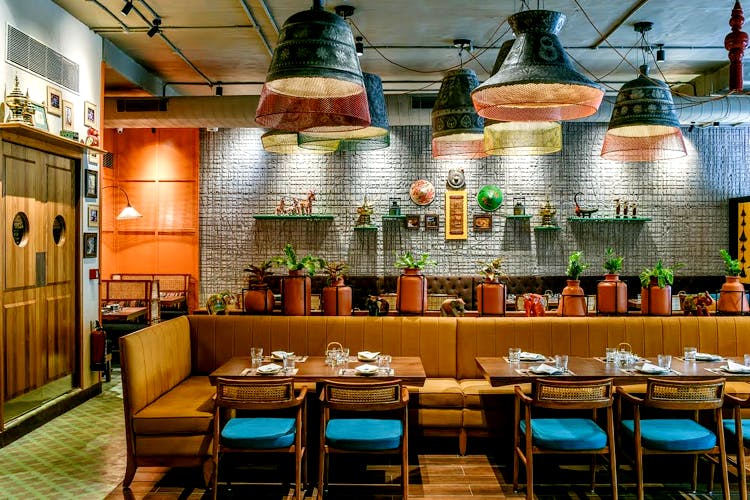 Delivery Available

Wi-Fi Available

Nearest Metro Station:

Indiranagar
Khao Suey, Samosa Soup And A Whole Lot Of Burma At This All Vegetarian Restaurant In Indiranagar
Shortcut
Burma Burma on 12th Main Indiranagar dishes out authentic Burmese cuisine that includes samosa soup and versions of khao suey. The menu is all-vegetarian and extensive, along with a dedicated section for tea.
What Makes It Awesome
Borrowing elements from Burmese culture, Burma Burma's space is done up with finger puppets that depict various tribes of Burma, lacquerware plates as props and wall fixtures, and longyi fabric feature extensively on the cushions. It is spacious with a very rustic look brought on by the textured walls that are meant to depict the ageing temples in Burma. A splash on colour courtesy the huge, detailed mural of a Burmese woman feature at the tea bar.
The first thing that you need to order from the all-vegetarian menu is the samosa soup. A chef's special, it's a warm bowl of tangy, spicy broth with spiced black chickpeas and a mini samosa dunked in. It's the restaurant's take on the popular Burmese street food. Next up, order a salad to share if you are coming on date night. Tea Leaf Salad and Pickled Ginger Salad are what we recommend. For starters, you cannot miss the crunchy Lotus Stem Fritters and Wa Potato.
Stick to the noodle section and order the Burma Burma Oh No Khao Suey. It's a no-nonsense one-bowl meal that can be split by two people. The Shwedagon Khao Suey also gets our thumbs up for its tomato curry and rich coconut cream broth. If you like mock meat or want to try it, do try th Mock Dock and Baby Potato Curry. Since it's also a tea bar, there's a whole range of tea that you can take it however you like -- hot, cold or even bubbly. Think Chocolate Bubble Tea and signature blends of white and Oolong.
What Could Be Better
The wait time here can be long if you go without any reservations, so we highly recommend that you reserve your table in advance.
Pro-Tip
The restaurant also sells their tea blends and pickles, so if you fancy some, you can always pick up some from the retail section on your way.
Comments
Delivery Available

Wi-Fi Available

Nearest Metro Station:

Indiranagar