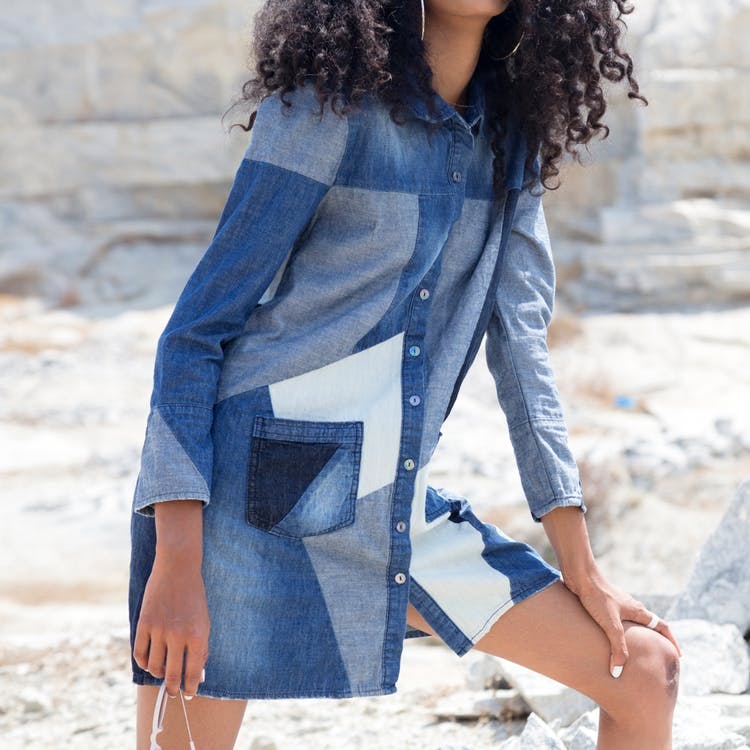 The 90's Are Calling And They've Brought Back Some Awesome Denim Looks
Denim is in! Not that it has gone out of style at any point really, but with 90's trends making a comeback, you can live in denim all day, everyday. Nor just jackets and jeans, we've got some fresh styles in tops, dresses, and shirts that you can either pair with jeans (denim on denim ftw!), or literally anything else. Here are some of our favourite pieces this season

Jersey Sleeves Denim Buttoned Jacket
Keeping the class of denim with the added comfort of jersey sleeves, buttoned jacket is great to add some class to a casual look. Keeping things versatile, the added edge of the frayed hem will have you looking effortlessly cool while you're out and about through the day.

Denim Patchwork Shirt Dress
A shirt dress with some drama, a denim patchwork dress will have you standing out while you paint the town red. Oh, and this one has pockets! Made with upcycled denim, and accented with mother of pearl buttons for the right amount of sparkle. Perfect for days out, casual work days, and nights out with the squad - a proper 9-to-5 must have outfit!

Long Denim Jumpsuit
Combining class, comfort, and casual vibes, this full length jumpsuit is goals if you're looking to make a statement without trying too hard. With a wrap neck and tie up detailing, rock that brunch, sundowner, or lunch party no matter how glam you need to look.
Ombre Crew Neck Top
Perfect for relaxed, casual days. Relaxed fit, flowy sleeves, and cool blues, a versatile top to keep things simple and easy. Rock it with black, white, red, or even denim for that denim on denim look.

Denim Patch Pocket Pinafore Dress
For those of you who enjoy clothes with a dash of colour, try a pinafore dress with some fun details. Patchwork pockets (putting the fun in function, this dress) and gingham straps, this works well for any season. Wear it with a simple sleeveless, regular, or full sleeved tee depending on the season, and you're good to go!

Comments