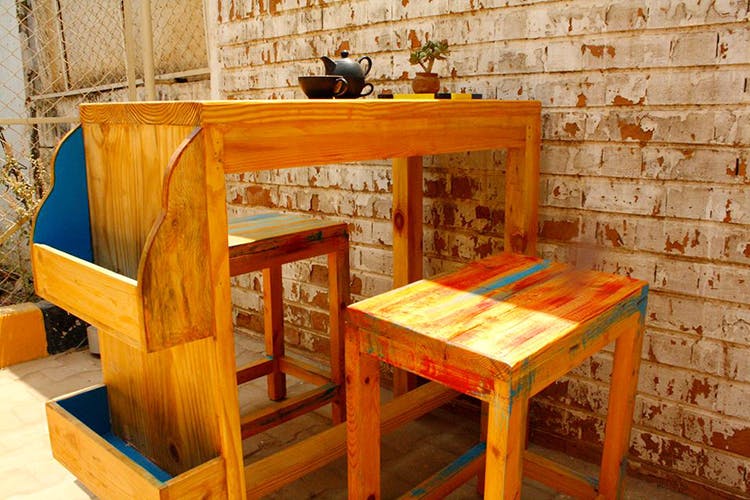 Looking To Give Your Space A Makeover On A Budget? Call By The Riverside Now
Shortcut
By The Riverside specialises in beautiful furniture and home decor products, with a distressed and vintage look and feel. Plus, they will even give your bedroom or terrace a spiffy makeover, depending on your budget.
Nature In Focus
Swati Seraan always felt a connect with nature and the outdoors. This is why she quit her corporate career of more than 14 years to launch By The Riverside,a  furniture and interiors company in 2015. As Chief Dreamer, she heads a team of local artisans and carpenters who breathe life into wood and create stunning pieces of furniture and other design elements.
Touch Wood
Inspired and influenced by nature, By The Riverside creates products that are eco-friendly and biodegradable. They mostly work with reclaimed and solid wood and don't bother with veneers and laminates that are so common in the market today. Giving furniture and interiors a distressed and natural look is what By The Riverside specialises in. If you are also looking at vintage or retro style and solid wood furniture, then you need to hit up Swati.
Looking for a customised piece for your home or workspace? Then, just give Swati a ring. By the Riverside crafts everything from crockery cabinets to wooden chests, wall murals, mirrors, furniture and, even, doll houses. After a thorough consultation, the team gets to work and depending on the intricacy of the design delivers the product between two and four weeks.
Interior Talk
While Swati's label initially started out by making furniture on a small scale, she has now branched out into full fledged  interiors. She claims that unlike modern design complete with veneer and laminate finishes, she prefers to give her client's spaces a natural and rustic look with a lot of distressed feel to the furniture. If you are going for a slightly whimsical, countryside vibe to your space, then Swati needs to be on your speed dial.
If you have a budget, then don't feel shy to tell Swati that. Keeping in mind your budget, By The Riverside will mix materials and finishes and create a look that suits your tastes and pockets.
Contact: Call +91 9886439231 or email mailus@bytheriverside.in
Price: INR 10,000 upwards
Find them on Facebook here.
Comments