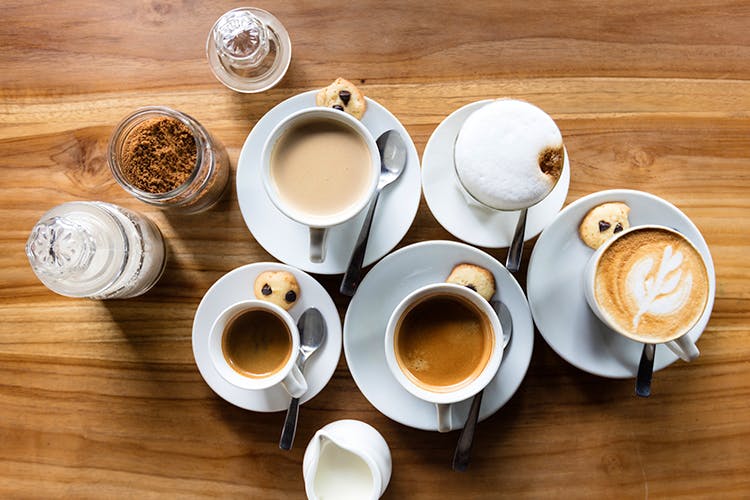 Kalyan Nagar's Only Place For Hipster Coffee Is Also A Sweet Spot For Dates And Work
Shortcut
If hipster coffee is what you seek in Kalyan Nagar, then look to the only place serving it -- The Roastery. It's a got the hipster ambience right down to the T as well as corners for dates or when you need to finish some work.
What Makes It Awesome
If you are in Kalyan Nagar, say hello to The Roastery, where the coffee is hot and Instagram-worthy. It's a chic little spot done up with minimal decor and fuss. Think grey walls and brown furniture. The playlist is trendy, there's comfortable seating on one side and high chairs and tables on the other, and a crowd that's mostly made up of millennials on either on dates or working on some assignment. Oh, the smell of roasted beans is always in the air, so coffee snobs, you know you are home. There's al fresco seating, except in the evenings, mosquitoes will probably crash your coffee date.
The menu is easy and relatable with regular brews and iced coffees made from a selection of Arabica beans. Cappuccinos, lattes, mochas, caramel macchiatos, espressos, and Americanos are your hot brews with our personal favourite being the chocolate-flavoured cappuccino. Hot chocolate is on the menu as well and it's worth trying! What to go with your coffee, you ask? Not much, but cookies, a few sandwich options that almost gets sold out immediately, and a few sweet treats such as cakes and tarts.
What Could Be Better
There's no WiFi available, so if you are planning on working from here the whole day, then you might want to come with a full data package.
Pro-Tip
In case you like your brew, you can always buy them as well. They sell a selection of coffee beans and powder too.

Comments