The information in this post might be outdated
Cafe Thulp's Keto Menu Is Inspired By Owner Gautam Krishnankutty's Weight Loss Journey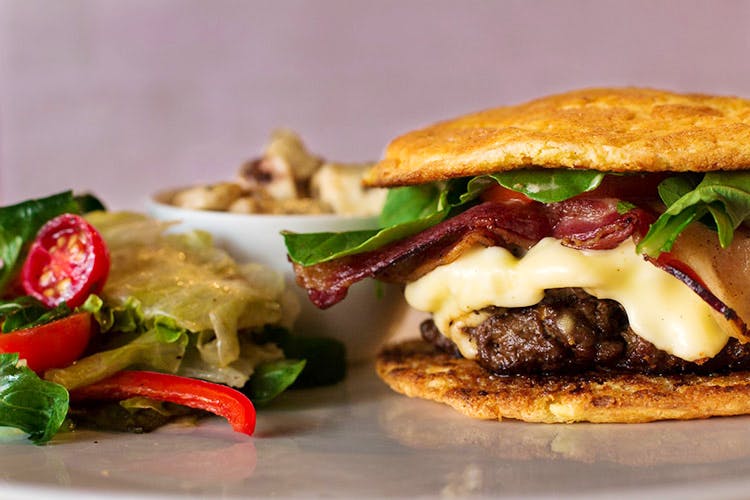 Shortcut
Cafe Thulp's Keto menu let's you tuck into burgers, stews, sandwiches, steaks and desserts minus the carbs and the sugar.
Keto Diet For Dummies
The Keto menu at Cafe Thulp has no ordinary story behind it. The menu is inspired by owner Gautam Krishnankutty's personal and dramatic weight loss journey. Best described as a diet plan that is low on carbs, and high in fats, with a focus on protein, the Keto diet has had its share of bouquets and brickbats. Now before you wander if  you can live on cupcakes and chocolate, Gautam was quick to burst our bubble and explain that sweets are not actually made of fats, they are sugar that turn to carbs which is stored in the body as fat. So that aside, when your body is deprived of external carbs over a period of time, it breaks down the fat stored in your body leading to weight loss. Though it must be said that the Keto diet is not a quick fix, and the results are best if implemented as a lifestyle choice and followed over a healthy period of time.
Practicing What You Preach
Don't just take our word for it, as Gautam lost 28 kilos in a matter of months. The drill was worth it, as Gautam is healthier and is responsible for bringing the Keto menu into his popular restaurant Cafe Thulp with the intention of making the diet accessible to everyone. The main difference is the special bread substitute which is made from cheese, almond flour and eggs. Keeping carbs at bay, Gautam says diners have the choice of eating satisfactory meals without feeling like they are compromising on taste.
Taste Test
We had a go at the Thulp Keto Burger with bacon and cheese and we have to say it tasted just as good as a regular burger , but minus the guilt of carbs. The bread was light and actually reminded us of an egg fry and went well with the double beef patty, bacon, arugula greens, and full fat mayo.  Apart from burgers, there's also more such as a choice of main courses and desserts. From Kerala veggie stew with snake gourd and Keto bread, or smoked chicken sandwich with mozzarella, but Gautam recommends the Thulp Keto Burger, where you can choose a patty of chicken, beef or pork. For dessert, there's almond cake or mixed berries to be eaten with Natura sweetened whipped cream.
LBBTip
Want to make this part of your lifestyle? The Keto menu is available on Swiggy!
Comments