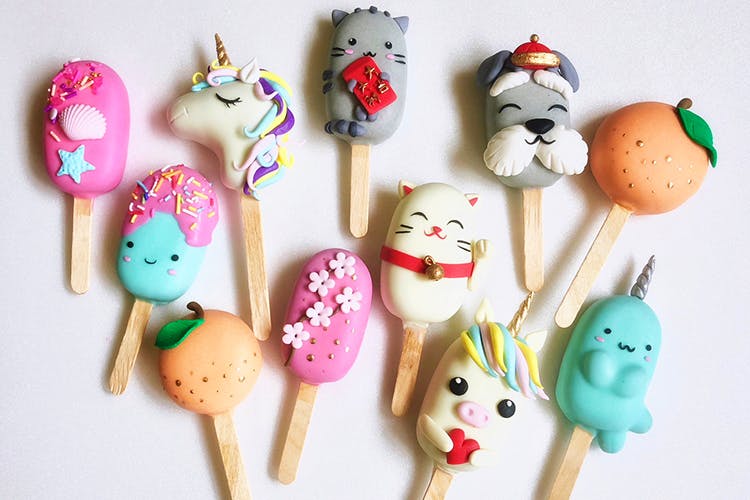 Bunnies To Little Piggies, These Cakesicles Are The Most Adorable Things You Will See Today
Shortcut
Taking pretty desserts to a whole new level, Lavonne's cakesicles are almost too pretty to devour. Although that didn't stop us eating up about a dozen. We said almost!
What Makes It Awesome
You've heard of cakes and you've heard of popsicles. Now say hello to their glorious hybrid, the cakesicle. Yep! Cake pops just got a super cute and quirky upgrade at Lavonne Cafe, as their cakesicles are beyond adorable. With a chocolate cake base, the cakesicles get a whimsical makeover to look like anything from bunny rabbits to watermelons.
We can't even process how cute these look and it's impossible to pick favourites. The animal ones like the unicorns, bunnies, piggies, chicks, bears and kitties are hot favourites, but we're suckers for the other designs too. Although it's near impossible to bite into these and ruin them, we went ahead and took a bite. A simple chocolate cake, the flavours are nowhere near as explosive as their designs. But hey, you eat with your eyes, mostly, no?
We saved the best bit for last. And that's the fact that you can get your cakesicle customised. Just hit up pastry chef Joonie from Lavonne Cafe three days prior and her team will deliver your personalised batch of cakesicles. Priced between INR 160 and INR 360 a pop, the more elaborate the customisation, the higher the price. They have readymade ones at the cafe every alternate day, that you can pick up right away. But make sure you Instagram it first.

More Information
Lavonne
Nearest Metro Station: Indiranagar
Comments