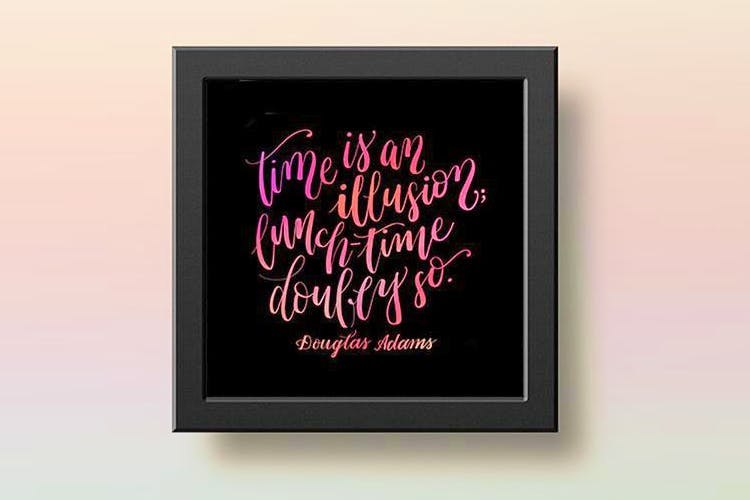 Up Your Gift-Giving Game With A Little Help From Beautiful Calligraphy By This Artist
Shortcut
Get yourself or your bestie a gorgeous handwritten quote or message by calligraphy artist Juhi Chitra. The Scratchy Nib's beautiful type and handwritten calligraphy is stuff made of our Pinterest dreams.
Customised Calligraphy
Let's wind the clock to the days where tender exchanges of love and care were made through carefully and beautifully handwritten messages and letters. Time to bring some of that old world charm back into our millennial consumer-driven lives with the help of master calligrapher Juhi Chitra. A freelance product designer from Delhi, Juhi started honing her calligraphy skills in her spare time and decided to start The Scratchy Nib. Her brand offers a bunch of calligraphy-based services, the most popular being customised lettering.
Get your name, or a quote or an entire letter gorgeously written by Juhi. After which she will send you a digital copy. You can then print on any kind of paper you want and get it framed. These make for great wall art and thoughtful gifts. Have a quick browse through her gorgeous website here. You can also get in touch with Juhi through her Facebook here and Instagram here to check out work and make a purchase also.
Price: INR 2,000 upwards
Workshops For All
Juhi's favourite part of the calligraphy gig is her workshops. She looks forward to spreading her skill and passion with an enthusiastic bunch. In fact, Juhi was in town not so long ago, holding a workshop for beginners at Church Street Social and we hear her students are waiting eagerly for a follow-up class. To make sure you don't miss her next workshop in town, stay glued to her Facebook Page to keep up with her workshop schedules.
Comments