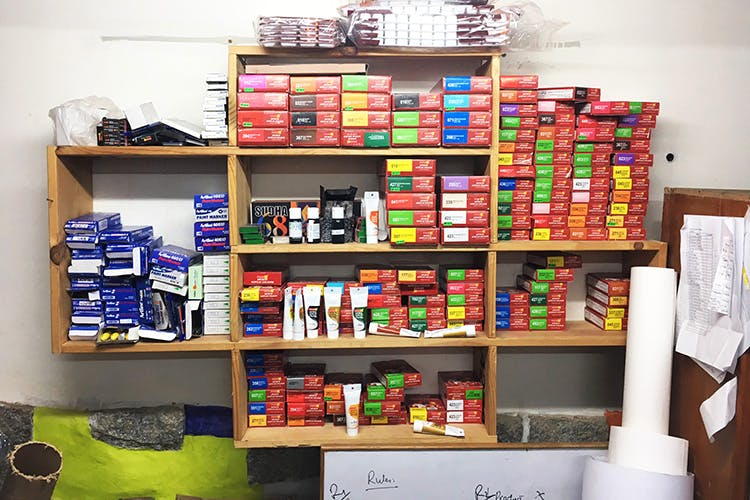 The Garage Of This HRBR Layout Home Is Stocking Up On Some Quality Art Supplies
Shortcut
Tucked into one of the bylanes of HRBR Layout, CanvasSmart is an art supplies store packed with paints, charts, pens and brushes, with two friendly assistants who know the A-Z of art materials and supplies to guide you.
Art Attack
Just like any other lane in HRBR Layout, with rows of residential houses, there's one garage that stands out, with a small crowd of art enthusiasts hovering around waiting for a roll of chart paper or a tube of acrylic paint. Run by two art lovers, CanvasSmart operates out of the garage in the home of Krishna, a fellow art aficionado. With shelves stocked with local and international supplies, be it paints, chart paper, pens and brushes, you're sure to find what you're looking for. What sets this arts store apart from the rest of them is that they stock up on some hard-to-find international art brands like Daler Rowney and Winsor & Newton, and they offer expert guidance pairing you with the art supplies that work best with your medium and craft.
Different Strokes
The store is a tiny one, with everything packed into a small space. There isn't much room to step in and browse through the merch. Moreover, if you're looking for craft supplies like fancy tape and other nifty knick-knacks, you won't find them here. What you will get here though is educated assistance and a shared passion and love for art. You can also find them online on their website here or find their stuff on Amazon, Flipkart and Snapdeal too. The owners and staff are very receptive to customer queries and doubts. Selling local and international brands, prices start at an easy INR 100. Check out their Facebook here to get in touch with them and find out more about them.