Feeling The Blues? Chase Them Away With Colour Changing Tea!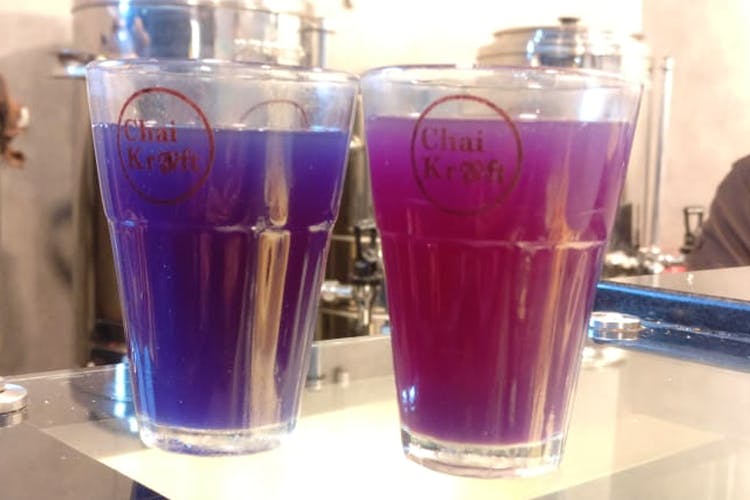 Shortcut
Chai Kraft serves Butterfly-pea flower tea which is a treat for your senses, and your nearly empty wallet.
What Makes It Awesome
Deriving its bright blue hue from the Butterfly-pea flower, the blue brew is sweet as it's healthy. Have it hot at Chai Kraft as The Blue Brew Tea, or cold as an ice tea. The teas are made with an infusion of the flowers, sugar, and a dash of ginger. The pea flower doesn't have any taste per se, just flavour, but we're not really complaining. For a real visual treat (and slightly more balanced taste), try the Malabar masala blue tea or the purple virgin mojito that magically changes from blue to purple when you add a few drops of lemon juice! Okay it's not magic, it has something to do with changing pH levels, but chemistry isn't our forte so we'll let you seek out the explanation yourselves once you've witnessed it. The best part? It's not more expensive than a regular chai! The hot tea(s) cost INR 20 and the cold brews cost INR 50. Regular chai and (filter) coffee drinkers can have their favourite as well if they're not feeling too adventurous (we hear their ginger tea is great). Grab a samosa, banana cake, puff, or sandwich and satisfy those 4pm munchies while you're at it.
What Could Be Better
The outlet we visited is a kiosk on a narrow lane opposite forum in area with a lot of offices and PGs, so if you're going at tea time expect a crowd of people doing the exact same.