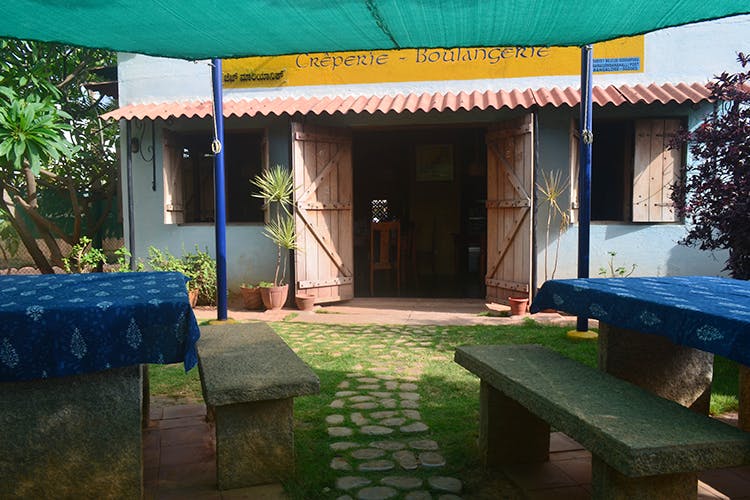 Rustic French Ambience, Crepes And Wood-Fired Pizzas: All At Whitefield's Best Kept Secret
Shortcut
In the decade-old home of Marrianick or Chez Marrianick, French staples such as baguettes and croissants come fresh as a summer's daisy. Throw in wood-fired pizzas, crepes, and a rustic countryside French ambience, and you've something that's worth experiencing.

Great For
Meaty Options, Outdoor Seating, Family Outings
What Makes It Awesome
It's as authentic as it can get when it comes to wood-fired pizzas and crepes. It's one of the best pizzas we have had in recent years with -- just simple flavours and ingredients put together and cooked to smoky perfection in the wood-fired oven. Our go-to pizza is the La Poulet, a simple tomato-based pizza topped with chunks of grilled chicken, spinach, and caramelised onions. Cheesy and you will like the lingering aftertaste of the tomato-spinach-cheese combo.
Bacon, pepperoni, and loads of mushroom-based vegetarian and meaty pizzas form the rest of the menu. Order the La Supreme for its meatiness (pepperoni and bacon) and the 4 Formages for its cheesiness -- think goat cheese and blue cheese! Crepes are of the sweet and savoury kind, with La Guyanaise and La Bele Helene our favourites. The Guyanaise is a banana and chocolate crepe drizzled with fresh cream, while the Helene had pieces of pear along with chocolate sauce and cream.
The place reminds you of a happy little French countryside with its open-air seating that has granite tables covered with blue pinecone-printed tablecloths and granite benches. Plus, completing the rustic and a picnic-like ambience are the greens, blooms, and a rather inquisitive Greyhound named Leslie rolling around in the grass. And just like Le Saule Pleureur restaurant in the novel (and movie), The Hundred-Foot Journey, there's no hoarding or anything to point to the place -- let Google Maps guide you.
What Could Be Better
Not that we are complaining, but for many, the pizza can be a bit bland for, but the chilli flakes, oregano, and even Tabasco is there for you to pillage to your palette's content. Another thing, be sure to carry cash as the place does not accept cards. Paytm and direct bank transfer are available though.

ProTip
Order the set menu that comprises a salad, bread basket, mains, drinks, and dessert. All you need to bother is about choosing between pizza or crepes while munching on the fresh bread and fresh greens. Also, they deliver baguettes, bread, and croissants in certain pockets of Whitefield every day except on Sundays.
Comments