The information in this post might be outdated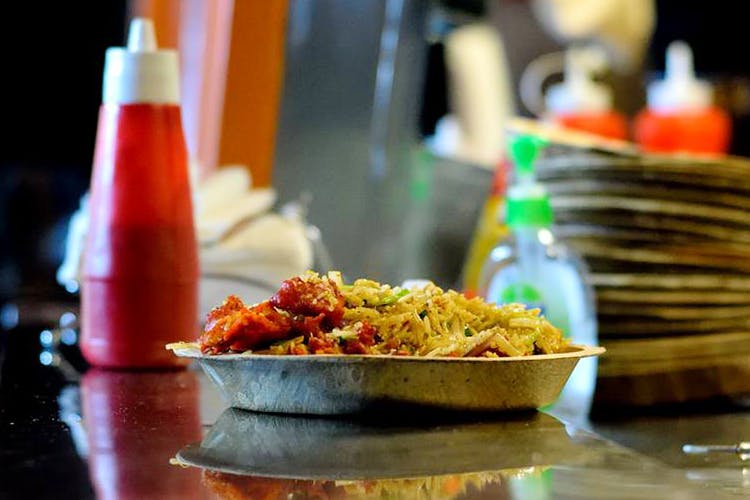 Nearest Metro Station:

Trinity
Barbecued Momos And Butter Garlic Prawns: This Food Truck In HSR Does Chindian Right
Shortcut
Look no further than this food truck in HSR to get your quota of greasy, tasty Chindian fare. Foxtail Rodeo serves up some eclectic Chinese fare that features everything from spicy Dragon Chicken to juicy Chicken Burger.
A-List Street Food
Even though the name sounds mildly American, Foxtail Rodeo specialises in Chinese-style street food with Indian influences. Enter Dragon Chicken, Veg Manchurian, Szechuan Noodles, and Lemon Chicken. The food truck is a welcome relief to your tummy and palate as it breaks the monotonous line of '99 Verity Dosas' and 'Mumbai Pav Baji' food trucks in the vicinity. Operational from 6 pm onwards, the food truck dishes out starters such as Baby Corn Chilli, Mushroom Chilli, and Hot n Spicy Chicken Wings. For those looking for something heavy, there's rice and noodles options such as Butter Garlic Prawn Fried Rice and Cocktail Noodles. The truck also serves dumplings, sausages, rolls, and burgers.
Chow Time
The food truck has a reputation for quick service and hygiene. On the hygiene front, you'll find the cooks wearing aprons and hair caps as well as hand sanitisers placed out for customers. The service is quick and friendly, and before you can say: "one Barbequed Fried Momos, one Butter Garlic Prawn Fried Rice and a bottle of water," you'll be dipping those hot momos in the spicy sauce and rubbing your tummy in joy.
The food truck is operational from 6 pm to 11 pm on all days except Mondays. They are usually parked in HSR, but they do tech parks once in a while. Follow their Facebook page here to keep track of them.
Comments
Nearest Metro Station:

Trinity