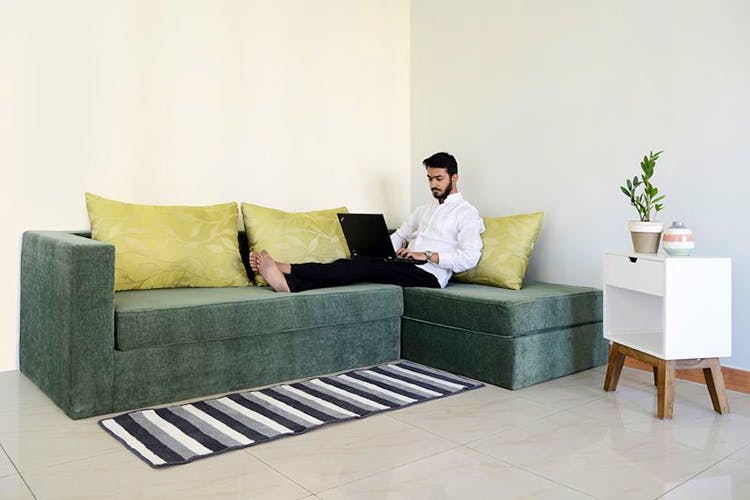 Nearest Metro Station:

Trinity
Commitment Problems? Rent Your Sofas, Beds, Wardrobes And Fridges Instead Of Buying
Shortcut
Setting up home? Why commit to furniture when you can rent it all out at great deals from Cityfurnish. With top quality furniture and appliances on offer, live the good life without breaking the bank.
What Makes It Awesome
We all know how expensive it is to live in a city like Bangalore. And setting up your matchbox apartment with great furniture and appliances isn't easy on the pocket either. So it makes perfect sense to rent it all out and we know just who to hit up. Cityfurnish has a whole range of furniture and home appliances on offer for you to rent out as per your convenience. Claiming that all their furniture is made from sheesham wood, their stuff is built to last and they promise that it'll see you through for as long as you decide to rent them out. We love the wooden wardrobes they have on offer. Minimalist and roomy, these classic pieces will set you back by only INR 1,159 per month for two. Other pieces that caught our eye were the dining sets that came with an INR 779 per month price tag and their sofa set which will cost you INR 1,249 a month.
Don't pay a bomb for household appliances either. From LED TVs to washing machines, rent them all at mere fractions of their original costs. Cityfurnish promises to bring your furniture within 72 hours in a ready-to-use condition. This means your beds come with mattresses and sofas with cushions. You'll have to rent their stuff for a minimum period of 3 months and can choose to extend your period as you prefer. The delivery and setup are absolutely free and maintenance won't cost you either. So don't take the plunge and buy your own furniture when you can rent these nifty pieces instead.
Pro-Tip
Cityfurnish is also planning to introduce smart furniture with a technological dimension and multi-functional furniture to their inventory soon, so watch out for that.

Comments
Nearest Metro Station:

Trinity