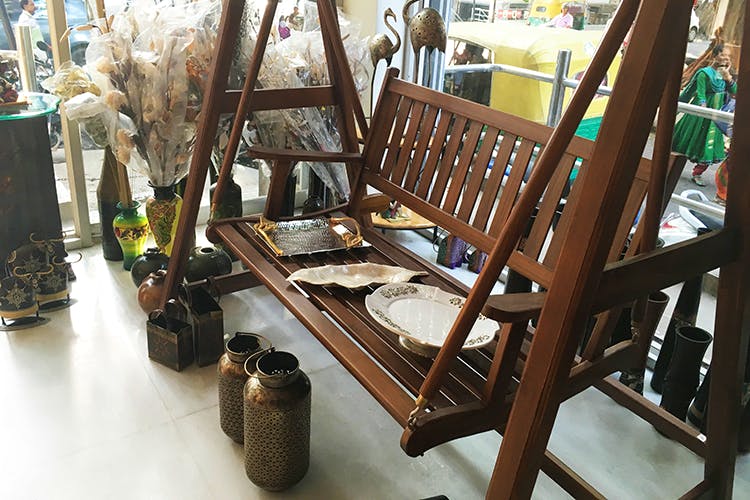 This Furniture Store In Jayanagar Is One Of The Best Home Decor Secrets We Are Letting You Into
Shortcut
Check out Classic Decor at Jayanagar for all you furniture and home decor needs. From wooden swings to glass lamps and key hooks to milk canister-like jars, you will be spoilt for choice here.
Keeping It Classy
Classic Decor and its interesting window display of figurines and interesting furniture caught out eye from across the street when we happened to be strolling in Jayanagar's 1st Block. The mid-sized store is spread over a single floor comes with big glass windows, and stacked to gills with furniture, home decor and other knick knacks.
As soon as we entered we spotted a really  cute wooden swing set, the kind that would look perfect in an apartment balcony as it would in someone's living room. Further into the store, we spotted pretty clay lamps and brass bells hanging overhead, giving the whole place a very subtle artsy vibe. Don't care about being subtle? Then check out Classic Decor's collection of life-size brass flamingos, their vintage-esque ceramic bowls, varnished metal trays and their glazed clay pots and vases. Plus they also stock artificial flower arrangements to go with these vases.
Stunning Furniture
Classic Decor also sells furniture that we're loving. Apart from the swing we mentioned above, we also spotted some lovely carved wooden tables with glass tops, which might work fine as bedside tables or as a statement piece in a corner of your living room. Their metallic milk-can like big jars and magazine holders were also a favourite with us. Looking to light up your home, then check out Classic Decors' selection of cut out metallic lamps, with a glass interior, that gives off a lovely pattern of light. You can also pick smaller home decor pieces such as key hangers here.
Price: INR 200 upwards.
More Information
Classic Decor
Nearest Metro Station: Jayanagar
Comments