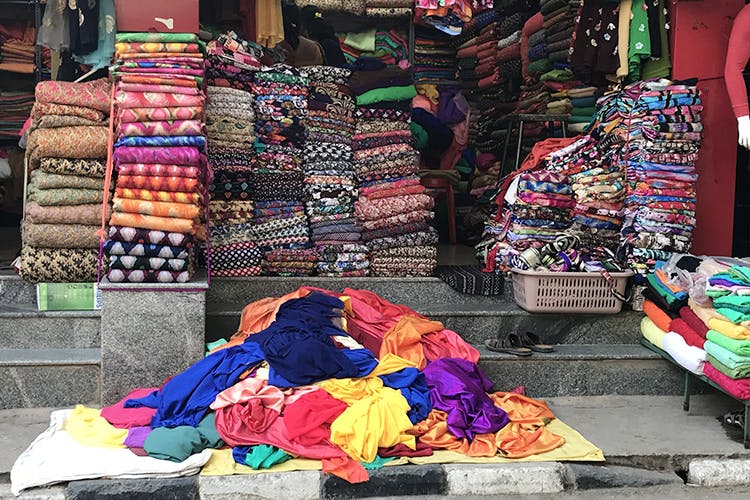 Buy Clothes, Fabric And Linen Starting At INR 100 For A Kilo At This Secret Market In North Bangalore
Shortcut
Buy dresses, material of all sorts, dupattas, bed covers, sheets and much more, by the kilo at this market in this gully of North Bangalore.
What Makes It Awesome
Called Sujatha Market (on the other side of RC Puram), this lane in Srirampuram is full of merchants selling their wares, all priced and sold by the kilo — from towels and bed spread to dresses and spools of thread. You do get glitzy (Bollywood style) kurtas and dresses, but we recommend this place more for the fabrics, linen and towels. Maybe it's time to buy new towels for everyone for their birthdays. And then buy matching bed linen too. In fact, if you're artistic, or at least if your aesthetic compass mostly points north, go ahead and mix and match with materials for your sofa, cushions and curtains. It'll add that pop of colour and quirk. Same goes for outfits if you're good with design. We're thinking of lime green maxis, floral skirts and maybe even some embroidered cold shoulder shirts, for the summer! Lads, how about you too get your flower power on and make shirts or even board shorts from this fabric!
Sometimes available in rolls and sometimes in massive piles, you've got to make this an adventure and wade through the cloth to find exactly what you want. From solid colours that can work on petticoats to cushion covers, you can buy fabric in cotton, rayon and linen (mostly mixed though). You can also purchase individual pieces sometimes, but that's only towards the evening when the vendors are ready to shut shop, and just really want to 'get rid' of extra baggage. Rummaging through this gully wasn't easy but we picked the best places that you MUST go to! If it's fabric you're looking for, our pick is Vinayaka Fabrics for dupattas (at about INR 100 a kilo} and Yes Yes Tex Store and Sri Ranuja Textiles for denim yarn and dress materials at INR 400. If you're hunting for fabric for curtains, and home linen, hit up Sabrish Enterprises for bed covers, sofa covers and loose fabric starting at just INR 250 per kilo. Those looking for blankets, make sure to pop by at Angalaeshwari Enterprises where you can buy them by the kilo for INR 270 and then at Sri Vigneshwara Enterprises for doormats of all shapes, sizes and colours, for just INR 250 per kilo.

Pro-Tip
It can get really crowded here in the morning and evenings, so afternoons are the best time to visit.

Comments