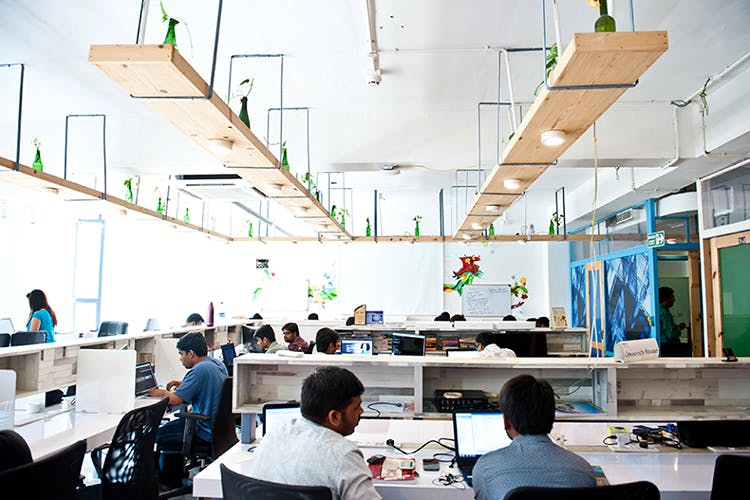 Hotdesking, Conference Rooms, Or Community Tables: HSR's Top Co-Working Spaces
Setting up your startup in HSR Layout? Or are you a freelancer who lives there? Well, whether it is building your professional networks to having a fully functional work desk, we got you covered with the list of top co-working spaces in HSR Layout. These co-working spaces offer hot desks, dedicated spaces for large teams, dedicated WiFi, and a host of amenities that ensure you can do your job without any hassle.
Bhive Workspace
From Uber to the solo-entrepreneur and everyone in between, we are all abuzz for the Bhive brand and with good reason. Posh interiors with funky wall-doodles, spacious desk spaces, conference rooms and an energetic atmosphere are one the many reasons, why this workspace stands out. But what puts the Bhive in the spotlight is the growing community that it creates. If you are looking to build your dream team, Bhive Workspace has a list of events that will get you immersed in connecting with entrepreneurs and start-ups from various streams. Located in four different spots in HSR Layout, the costs start at INR 365 for a day pass and INR 6,000 for a monthly pass.
CoWork Cafe
If your dream team is ready to rock and roll, CoWork Cafe offers the support to run your venture. CoWork Cafe also helps start-ups with business incubation by provided added assistance when it comes to HR, marketing, operations, accounting and more. If your start-up caters to international clients, night shifts are not a problem as CoWork is open 24 hours keeping in mind UK and US work timings. It costs INR 300 for a day pass and INR 5000 for a monthly pass. With lockers, meeting rooms, workspace and printers and scanners are all-inclusive of the monthly pass.
365 Shared Space
If you are the ringmaster of your venture, and just require the basics without splurging then, 365 Shared Space is for you. Running affordable plans with desk spaces, that come with top-notch WiFi and other office essentials like access to printing and conference rooms. A bonus is freebies from the company partners, and discounted or free entry to events, which is applicable to all plans be it daily or monthly. Costing INR 5,200 for a monthly pass, you'll get access to meeting rooms, game room, event space, high-speed internet and the cafeteria.
Workshaala
If you have a growing team and the budget to invest, Workshaala offers offices with sleek and modern interiors that give it the corporate feel. Minus the traditional setup of deposits, set-up costs and lease hassles – rent floors or sections that are as ready to go as your team. The floor plans come with individual manager cabins, cubicles and private team rooms that are perfect for brainstorming, meetings and conference calls. Located in four different spots in HSR Layout, the prices start at INR 5,099 for a monthly pass.
Green Bubbles
Green Bubbles offers all the essentials that one can expect from a workspace – meeting rooms, desk spaces and office supplies. The one factor that sets Green Bubbles apart is that it is catered to start-ups that centre around workshops. The space offers a conference room that can seat up to 50 people. Whether your start-up caters to classes, training sessions or hosting workshops – Green Bubbles sets the space with the basic add-ons like whiteboards, projectors and tea or coffee. Located in Sector 6 of HSR Layout, it costs INR 500 for a daily pass and INR 6,000 for a monthly pass.
Comments