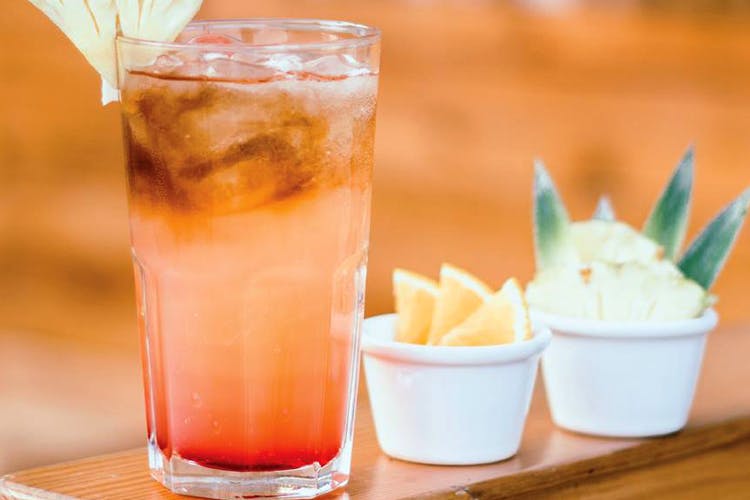 Nearest Metro Station:

Jayanagar
Sip A Cocktail And Enjoy Salma Hayek's Company At The Rooftop Of This Resto-Pub In Jayanagar
Shortcut
Salma Hayek is actually an oven baked spud. And we love spuds. And Salma Hayek. Borderline quirky and effortlessly yum menu, reasonably priced cocktails, and that split-level seating are what you will love about Once Upon A Rooftop. Oh, and there's a live music scene happening too.
Al Fresco Or All Close-o?
Situated in Jayanagar 4th Block, this watering hole is a welcoming relief to anyone who's parched; weekdays or weekends. A split level seating with an al fresco setting is what the space is all about with the al fresco space opening out for a live music scene. Cocktails and music by the open air, anyone? The downstair seating with its very industrial decor is for everyone who wants to just unwind. You can grab a stool at the bar or let loose in one of those plush sofas by the corner — seating is plenty and comfy. Planters here and there, and long tables give the space a very casual dine vibes. Music is commercial and not all that loud, so hearing your friend from across the table is not an issue. Or the two of you can groove to Shape Of You.
What's On The Menu?
Plenty actually. The menu is a mix of bar grub, finger food, and mains that draw inspiration from Italy and the Asian regions of China and Thailand. And we did tell you that it's borderline quirky, right? Salads have Zidane, finger food has Raja Fries and Thai Tuk Tuk Paneer, and mains have Master Lee's Rice Bowl. And yes, the Salma Hayek spuds, which is basically mixed vegetable topped on a baked potato, are also there. In for a long night or a couple of drinks, the finger food menu and pasta are enough to keep your tummy filled. Pizzas come highly recommended while rice bowls and grills are suited more to afternoon check-ins. Quick service and well-presented plate are a bonus at this resto-pub.  Drinks are plenty with the usual poisons as well signature ones. And yes, they do have bottle beer as well.
So, We Are Thinking...
Drinking scenes at Jayanagar are something that doesn't make it to the newspapers but thankfully this pub is there to change that. Also, finding a parking is a bit tricky but once you do, you're sorted.
Comments
Nearest Metro Station:

Jayanagar