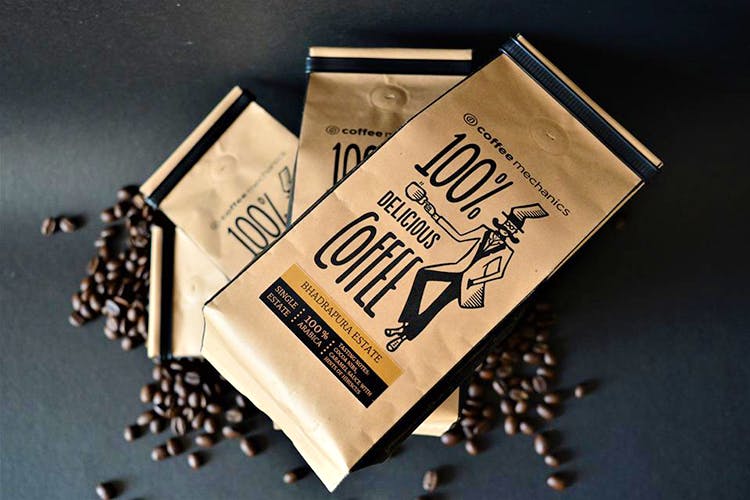 Single Estate Or Blends: There's A New Roastery In Town And It's All About The Mechanics Of Coffee
Caffeine Kick
First filter coffee, then artisan coffee, and now specialty coffee. Bangalore can clearly not get enough of coffee. So naturally, we were thrilled to hear that there is a new Karnataka-sourced coffee brand in town. Called Coffee Mechanics, the new roastery is in HRBR Layout. What we like about this one is that before you buy your coffee, they have a charming little tasting room where you can sample the brews before you dive into a committed relationship with your coffee. Yes, we understand. We also love our coffee as much.
Sourced from coffee plantations in and around Chikmagalur, you can pick from single origin or single estate option, or if you are not too fussed, then even the blends. In the single origin section, there's a House Blend which is like biting into dark chocolate while the Dark Roast is more floral meets caramel. Plus, medium and light roasts from the three estates they source from — Srilakshmi, Kuttinkhan and Bhadrapura.
At Your Doorstep
If you're quite the connoisseur, pick their single estate packs that come in medium and light roasts. And judge us if you must, but we can't wait to try out their blend. It's said to taste like cinnamon, vanilla and chocolate. They even have a cold brew, as well as all the brewing equipment you'd need to made the coffee go from powder to cup.
Currently working on a subscription format, you can sign up for monthly, quarterly, half-yearly or yearly stocks, depending on how much you like variety in your coffee.
More Information
Coffee Mechanics
Wi-Fi Available

Nearest Metro Station: Baiyappanahalli
Comments