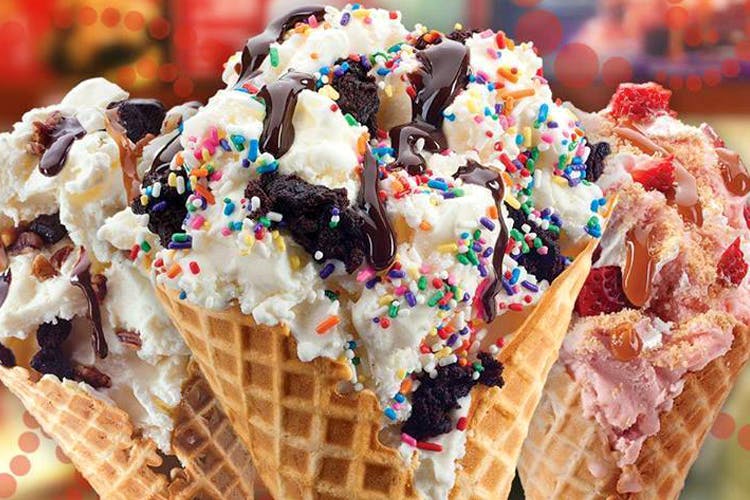 Cold Stone Creamery For Friendly Staff, Cheesecake Flavour And Their Waffle Cones
Shortcut
Cold Stone Creamery, an US-based ice cream parlour chain is now in Bangalore. Their main product is premium ice cream made with approximately 12–14 per cent butterfat, which is customised right in front of you as you order.
Who Is It For?
This is a place for ice cream lovers or for those who have a sweet tooth. Their flavour combinations are at once refreshing and classic. They actually have unique skills they use when they scoop the ice cream out and hand mix the add-ins in on the cold stone countertop.
How Was My Experience?
Walked in and was instantly greeted with a smile by the staff. He explained all the flavours and styles of ice cream mixtures to me so sweetly. Their rich and indulging flavours always leave me craving for more. You also have the option to add toppings to your ice cream if you want to. The ice cream is offered in four sizes: Kid's Size, Like It, Love It, and Gotta Have It.
The ice cream itself packs a lot of flavours. I got the Cheesecake Fantasy and wow, it felt like I was eating a whole cheesecake. The drinks are top notch too and taste much better than Starbucks. The products used all taste fresh.
LBBTip
Their freshly-made waffle cones are the best and a must try. Also the sizes that they have and serve are bigger than it looks.
More Information
Cold Stone Creamery
Wi-Fi Available

Nearest Metro Station: Baiyappanahalli
Comments