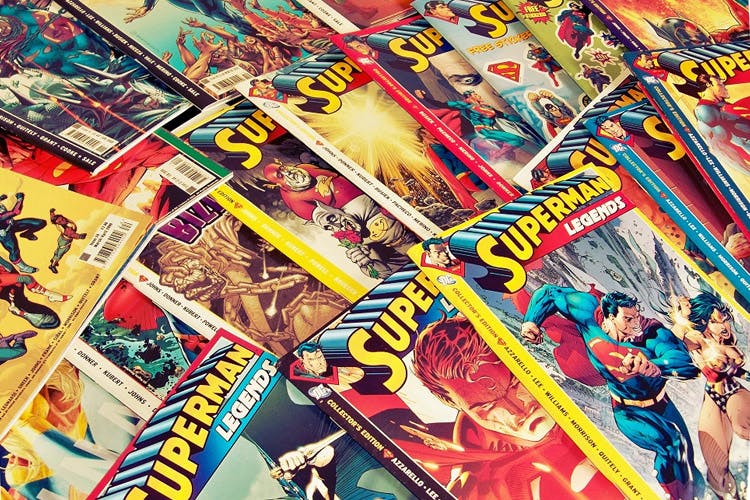 Batman Or Manga: Here's Where To Score Comic Books In Bangalore
Everyone's eagerly waiting for the release of the second part of The Avengers: Infinity War, but you've got to wait till May 3, 2019! So for those die-hard fans, comic books no matter how cool on the big screen, will always be better on paper. So whether you're chasing Superman and Spidey or Max Payne and Morpheus, or tripping on desi heroes or heroines, here's where you can stock up on your share of new and pre-loved illustrated books.
The Bookworm
From the good old war and love (who remembers the romantic Star comics?) comics in black and white to Archies Double Digest before the series killed off the main character, you'll find old-school stuff here. There's also Tintin and Asterix, all second-hand, so you can finally buy those expensive ones! Marvel and DC comics – mostly Batman, Spider-Man and Superman, are also on offer. Want graphic novels? Well, look no further. From Sin City to Watchmen, they've got it. We love that Amar Chitra Katha, Chacha Chaudhary and Tinkle too sell like hotcakes, here.
Blossom
If you want to lay your hands on the most eclectic collection of graphic novels to be found in this city, it has to be at Blossom. An entire section section here is dedicated to graphic novels with the works of comic giants such as Allen Moore (From Hell, Lost Girls), Joe Sacco (Footnotes from Gaza, Journalism), Art Speigelman (Maus, Barefoot Gen), Marjane Satrapi (Persepolis, Embroideries) and more. We have also spotted slightly lesser known but equally interesting comic books such as The Hotel At The End Of The World By Parismita Singh and Kabul Disco by Nicholas Wild here.
Gangarams Book Bureau
Spanking new versions of Archies, illustrated fairy tales, new age ones like Toy Story, Cars and Doraemon (manga) are on the shelves here. Of course, Tintin and Asterix collectors' versions too, if you're willing to shell out. Graphic novels, both Indian and international are on the shelves too. Our favourite though, is the collection of cartoons by RK Laxman or and the graphic novel of based on the iconic film Sholay. And, naturally, Calvin and Hobbes.
The Entertainment Store
Expect to come out of this store with a pile of comic books. War, thriller, Manga, mythology, superhero or even non-fiction, the place is a real treasure trove for geeks. Superhero books dominate here, and not just the mainstream ones. Justice League, Wonder Woman, SHIELD, Green Lantern and Thor across time find pride of place alongside the most beautiful hardbacks of Spawn, The Savage Dragon and Ed The Happy Clown. Sex, Mass Effect and even The Simpsons can be bought here too. If you are a Stan Lee fan, buy the Just Imagine Stan Lee Creating the DC Universe Omnibus Hardcover – an absolute collectors piece.
Goobe's
Looking for some Manga? Or perhaps some foreign language comic book which isn't even online? Never fear, Goobe is here! Cult favourites graphic novels – Max Payne, Watchmen, Sin City and Scott Pilgrim, are here for the taking. As is the Cyanide and Happiness collection or George Mathen's Moonward. Plus, comics like Archies, Tintin, DC, Marvel and plenty of Manga and illustrated works for kids.
Sapna
From Godzilla Awakening and Secret of the Sphinx by Geronimo Stilton to Thunderbirdsand Ben 10 (gulp), India's biggest bookstore (or so they say) has it all. Go mainstream with DC and Marvel superhero comics or opt for good old laughs from Archie and the gang. This is the place to stock up on graphic novels. Think Frankenstein, Silver Fin, Hobbit, Eagle Strike and even the Art of War. Fairytales, folklore, and illustrated fiction too find home here. Also, this is possibly the best place to stock up on Amar Chitra Katha, old and new.
Landmark
Never mind the Calvin and Hobbes, Tintins, Archies, DC and Marvel comics of the world, which by the way, are readily available here. At Landmark, focus of the quirky graphic novels, like Introducing Nietzsche (the German philosopher), The Alchemist, and even an illustrated introduction to the Bard. Sin City, Dr. Seuss and the range of The Fables series can be found here as well.
Surya Book Stall
Not the best in terms of choice, this little store in Malleswaram is not a bad option if you're looking for usual suspects like Tintin, Archies (yes, yes, the old school double digest ones), Tinkle and also Asterix. You may find the odd graphic novel or a current new comic book, but don't count on this one to be your usual supplier.
Higginbothams
With a section upstairs dedicated to comic books, you'll find Marvel dominates the shelves including many copies of The Hulk, The Avengers and X-Men. But there is a smattering of DC stuff as well, focussing mostly of Batman. Tintin, Asterix and Amar Chitra Kathas are also on offer here. That said, don't go here for the latest issues or even rare ones, they stick to mainstream and popular.
Comments