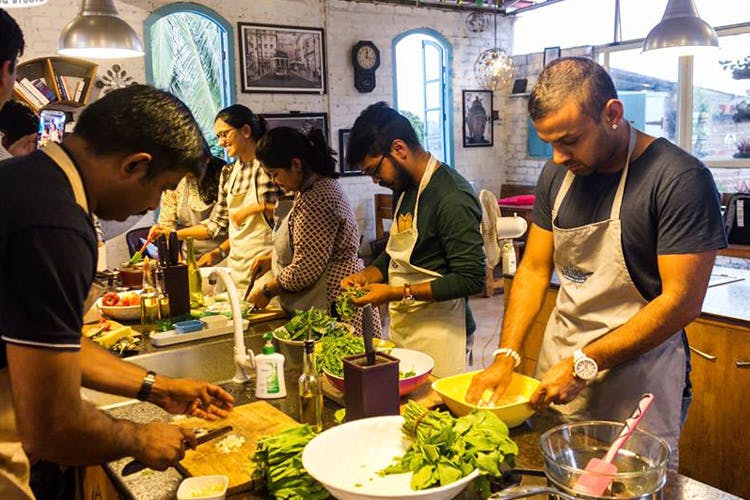 French Pastry to Lamb Chops: Ace Those Cooking Skills At These Schools And Studios
With Masterchef and other cooking shows all the rage these days, everyone wants to try their hand at whipping up a pie or cooking a fancy meal. Here are a few cooking studios and schools around Bangalore you can sign up with, to do just that.
Slurp Cooking Studio, Indirangar
Ignite your passion for cooking at Slurp, Indiranagar — a cooking studio which also does cook-alongs and concentrates on the old school style of teaching you how to whip up a meal. Head down to learn about old cooking techniques and regional cuisine, along with working in a friendly environment. With state-of-the-art equipment and a home kitchen vibe, Slurp is one place where you can combine the old and the new while having fun and filling your tummy.
Something's Cooking, Koramangala
An initiative by Satish Venkatachaliah, Something's Cooking is a cooking studio which concentrates on team building and cooperation, through cooking. That is a win-win right there. Eat yum food while getting to know your coworkers better. World class equipment, state-of-the-art facilities, and the quality ingredients — Something's Cooking is worth looking at. They have programs for individuals and teams as well, where you can cook and partake in team building exercises to create a better working environment back in the office.
Institute Of Baking And Cake Art
The Institute of Baking and Cake Art has been around for ages and conducts daily, three-day and five-day courses apart from their extensive intense courses in baking and pastry. The number of courses on offer is big including cake, gateau, bread, decoration, icing decoration and much more. Apart from these, they also have day-long food writing, photography, and other classes.
Lavonne Academy of Baking and Pastry Arts
The Lavonne Academy of Baking and Pastry Arts has amateur courses in addition to their diploma courses. You can take these courses over the weekends, and satisfy all those sweet tooth cravings while learning how to make them as well. With expert, qualified faculty to guide you through each step, Lavonne helps you go from eggs and flour to a tart or a pastry in no time. They also have some of the best baking equipment and kitchens to work in apparently. Their weekend courses range from bread and cakes to traditional French pastry and English desserts.
Konsult Baking And Culinary Academy
Konsult Baking and Culinary Academy has weekend courses, workshops, corporate events and even junior classes as well. Their one-day workshops concentrate on baking and pastry, starting at INR 2,500. You can even sign your kids up, they have junior classes starting at INR 1,600 per month. Teaching them different types of cooking along with hygiene, table etiquette, and food art, this is a confidence and morale builder for a child and at the same time — they get to eat. Winner winner, chicken dinner, quite literally.
Comments