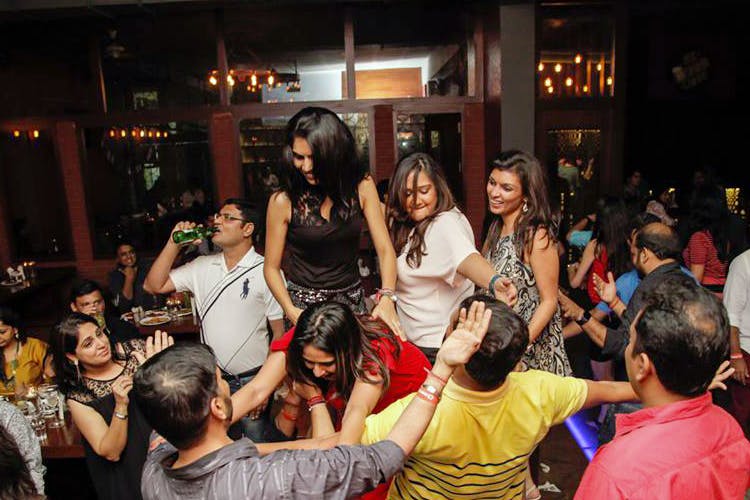 Bollywood Music, A Killer Dance Floor, Bar Bites: Why Republique Is Your Bar-Next-Door
Shortcut
Make Republique your friendly, neighbourhood watering hole if you are into Bollywood music, dance floors, and chilled beer. Also, their bar munchies go well with your drinks.
Chow Down
Spiced Baby Potatoes, Pizzas, Nachos, Fries
Sip On
Cocktails, Draught Beer, Mocktails, and IMFL Drinks
Winning For
The dance floor that lets you kill it with your moves, the al-fresco dining area for those quiet evening beer catch ups, and the pocket-friendly munchies.
Lowdown On The Ambience
Pull up a stool at the bar, take a table by the corner wall, or chill out at the al fresco seating with a draught beer and smokes — there's plenty of seating available in this gastropub. In the dimly lit and lively bar area, with everything from commercial to Bollywood playing in the background, the vibes are perfect for those fun weekend shenanigans.
Republique Of Finger Food
The menu is like every other pub across Bangalore — a good selection of finger food with Indian and Chinese mains. We didn't venture into the main section, mainly because this gastropub didn't seem like a place where you sit down and get your hands dirty eating noodles and rotis. To go along with the draught beer, and the Tom & Jerry and Red Dragon cocktails, we ordered the Spiced Baby Potatoes, good-old Nachos, and crispy Fries. The standout dish was undoubtedly the soft and spicy potatoes that went will the beer. The Chicken Hot & Spicy pizza that we ordered as 'mains' came with grilled chicken toppings, green chillies, onion, and pepper — very Indian and thin crust.
So, We Are Thinking...
Bollywood nights are usually not our thing, but thankfully the DJs that play here don't loop 'Honeys' and likes often.
More Information
Republique : Pub & Terrace Lounge
Nearest Metro Station: Trinity
Comments