The information in this post might be outdated
We Found A Secret Forest In The Middle Of The City And You Have To Go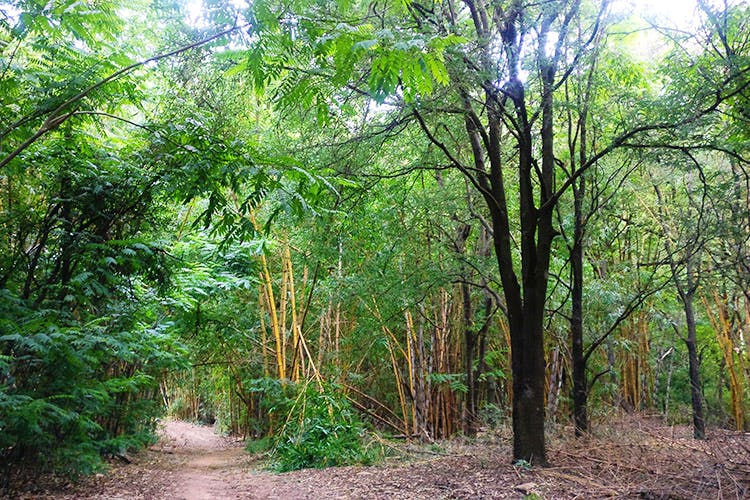 Shortcut
Doresanipalya Forest in JP Nagar is the green lung that you didn't know existed within city limits.
What Makes It Awesome
Would you believe us if we told you that there's a real forest in the city? Hidden in plain sight is the Doresanipalya Forest off Banneghatta Road. The nearly 90 acre campus, a.k.a the JP Nagar Reserve Forest functions as a research station for many forest department factions (like Environmental Policy and Tiger Research) and used to be a part of the Bannerghatta National Park a couple of decades ago.
It opens for a total 6 hours a day, once in the morning and evening and is great for what experts are now calling "forest bathing" because of the rich green cover and a wide range of tree species. With both a cement road, and small trails for those of you who like to walk on the road less taken, that double up as cycling trails! Being a research station, all the tree species are labelled, so it's a great place for kids (or budding environmentalists) if you're looking for something fun and educational. Butterfly and bird enthusiasts will also spot a few uncommon ones that come out in the early mornings.
The facility also has an outdoor badminton court, volleyball court and what we think is a cricket pitch (we're assuming, because we saw people play). While they aren't pet friendly, there are a whole bunch of dogs and puppies frolicking, but we recommend you use your discretion before petting them.
What Could Be Better
We wish the place could be open for slightly longer on the weekends.
Pro Tip
This works as a great spot for photo and video shoots should you have a project that requires a lot of foliage, without getting out of city limits.
Comments