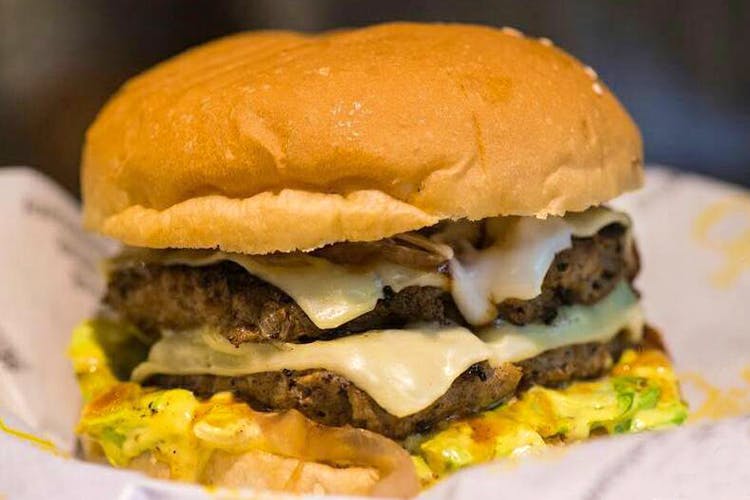 Double Roti In Brookfield Is Killing It With Its Cheesy Fries, Meaty Burgers And Happy Hours
Shortcut
Did we tell you that the fries are served in a kadai while burgers are served on pans? Oh yes, Double Roti kills it with its quirky plating as well.
Doubling The Quirk Factor
In a very industrial theme complete with tractor bonnets as high tables and exposed brick walls, the restaurant comes with garage-like vibes coupled with the use of pots, pans, and even a weighing scale for serving burgers, fries, and every other food on the menu. We sure were happy to receive our fries in a kadai and chicken tenders on a pan.
Bread Winners
The menu features an extensive selection of burgers and sandwiches with a few options requiring you to dislodge your jaw in order to take a bite. Take the Hey Bhagwan!! for instance. This is a meat lover's dream come true in the form of triple beef patties, fries, eggs, beef chilli, caramelised onions, and four slices of cheese all slathered together in a saucy mix of barbecue sauce and mayo. If you finish this one kg meal, you go down in the history books of Double Roti. For those who prefer burgers and sandwiches that require minimal effort to eat, we suggest the Chipotle Chicken Burger, Char Grilled Pork Teriyaki Burger and the Spicy Chicken Boat Trip sandwich made from soft panini bread. We are not being partial to meat lovers, but a spinach and mushroom sandwich or a cheesy paneer burger didn't appeal to the vegetarian in us.
If it weren't for the fries, the burgers and sandwiches would have easily stolen the spotlight. But when you see Cheese Fries, Sour Cream and Salsa Fries, Beef Chilli Fries, and that 'Add Bacon' option, you know you are in fries heaven and there's no way you'll have your pint of beer without ordering a cheese or a sour cream and salsa version of them fries.
Happy Hours, GoT Cocktails And Combos
From 12 noon to 6 pm, it's 1+1 on Kingfisher draught beer every day and that's one good enough reason to head to this place after work or even during work. That's not all, these guys also serve their signature cocktails that have been inspired by Game of Thrones. Expect drinks like Kings Landing and The Imp to make things merrier. Oh, lest we forget, they do lunch combos wherein you get can order either a burger or a sandwich along with fries and a non-alcoholic beverage. You can even add a beer for just INR 50 to the INR 350 vegetarian combo meal or INR 375 non-vegetarian combo. Cool, right?
More Information
Double Roti
Nearest Metro Station: Baiyappanahalli
Comments