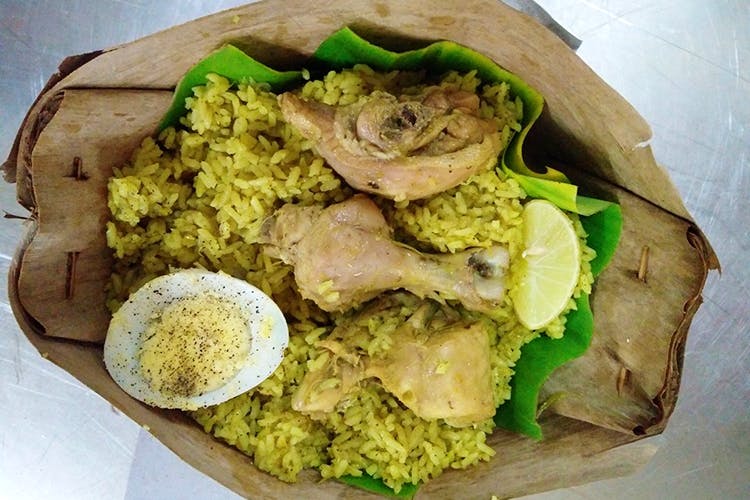 Top 5 Restaurants In Bangalore To Grab Biryani For Breakfast
There is simply no such thing as too much biryani. Biryani for breakfast, lunch, tea time and dinner is an Indian's dream, but let's make our way to this revolution one step at a time, and soon it'll be Viva La Biryani. You could be a normie and do breakfast the ol' cup of coffee and buttered toast style, or you could feast like a King and fill your tummy to the brink with these food joints that serve biryani for breakfast.

Shivaji Military Hotel
Nearly a cult favourite of Bangalore, Shivaji Military Hotel is one of the best joints in town to get authentic donne biryanis. Granted, it is highly unlikely to get a table here, but even if you had to stand out on the streets and eat it, it'd be worth it. Perfect for breakfast, since you get the chance to taste this iconic biryani without catching the chaotic lunch crowd. It doesn't matter if you're from Sadashivanagar or S.G. Palya, at Shivaji Military Hotel all you are is an ardent lover of Biryani.

Ranganna Military Hotel
Serving biryani as early as 7:30 am (yes, that is an actual time of day), Ranganna brings the most tender mutton biryani and thalemamsa fry that makes the early morning jostling worth it. The crowds only guarantee how fresh the food is, as they run out of everything only to continuously make fresh batches for the incoming crowd.
Hotel Aditya
Unlike other restaurants, Hotel Aditya acts like forbidden fruit and doesn't seem to put out as often as the others. Hotel Aditya serves biryani for breakfast only once a week (on Sundays), which turns out to be perfect for those who want to get an early start and not laze around on your weekend. It may be forbidden fruit, but there is nothing fruity about their menu; serving mutton biryani, liver and brain fry, the wait is worth it.
NV Naidu
This little food joint in City Market still stands strong after 50 years of service. The ambience is a very poor reflection of the spectacular food you get there. Biryani for breakfast gets so much easier when the service is as fast as it is here. If you're a fast eater you could possibly be out of there in five minutes, to catch another nap before work. The mutton biryani and leg soup here are what makes those 28 snoozes worth it.
SGS
Another favourite of City Market, SGS is always crowded and always a great experience. Breakfast biryani is such an adventure in this restaurant, you'll truly feel like you earned your food. You might feel the glares of those envious of your table, but power through it with that delicious plate of smoking hot biryani. The biryani here is called pulav because of its yellow tinge and homely taste, however, don't be fooled, because we know what it truly is at heart.

Comments