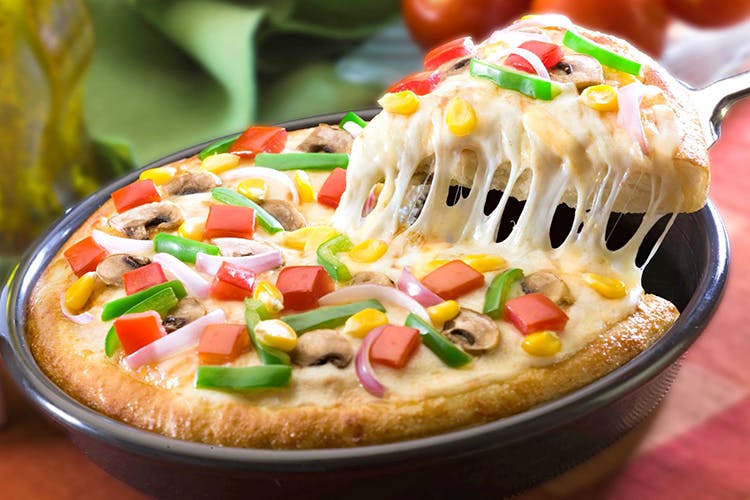 Here's Where You Can Eat In Elements Mall
We're sure you're going to get hungry after all that shopping and walking around the mall, so whether it's pizza you want or some authentic Chettinad food, we've got you covered. Depending on your budget and food preferences, bookmark this recommendation to get some food in your belly after splurging.
Pizza Hut
You can never go wrong with Pizza Hut, from their garlic bread to pizzas to dessert, this fast food joint pretty much has all delicious food on its menu. The ebony and ivory cake for dessert is a must-try here, apart from the pizzas of course.
Countryside
If you're looking for some good old South Indian style food, look no further. Chettinad style meat and cuisine from Countryside will give your cravings something to be happy about. The Chicken roast, Chicken Sukka, mutton fry and thali are highly recommended here. Be sure to try the biryani as well.
One For The Road
A resto-pub in the mall, One For The Road serves some great cocktails and drinks along with bar nibbles. But the main cuisine here is Chinese food. From fish fingers to dim sums to lamb and exotic veggies, you'll find your favourite dish at this restaurant.
Food Court
The food court has multiple options like Marhaba that serves middle eastern cuisine, good old Subway, KFC, McDonald's, Domino's Pizza, WOW Momos, Ibaco, Burger King and Wangs to name some of the popular fast-food chains.
Kiosk
There are some stand-alone kiosks as well, Krispy Kreme for some delicious doughnuts. The Gelato Shop serves some great gelato and Cream & Fudge for some great dessert. We suggest heading here for some quick dessert in case you're a sweet tooth.
Comments