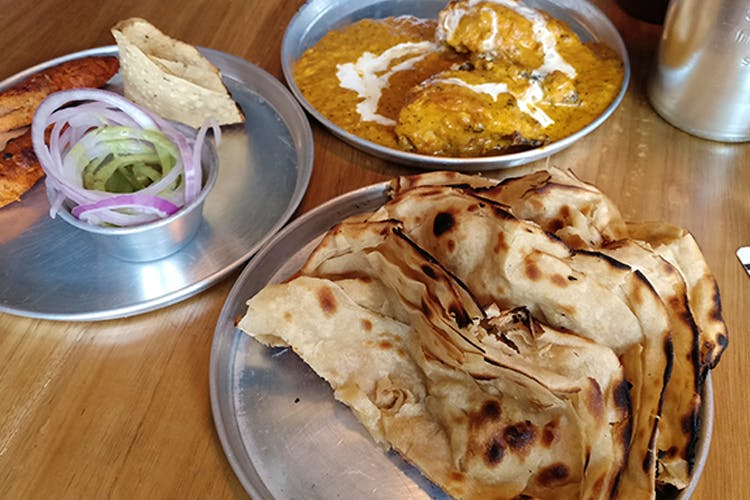 Butter Chicken Thali And The Super Friendly Staff: Echoes Cafe In Koramangala Is Different
Shortcut
With differently-abled staff and fusion Indian food, Echoes Cafe in Koramangala will give you an experience like nothing else.
Chow Down
Great Indian Mutton Sausage, Farm Fight Pizza, Classic Butter Chicken Thali, Raju Veg Tiffin Service
Sip On
RedRave Shake, Kit-Kat Shake
Winning For
The clever setup and ambience that enables efficient interaction between staff and customer.
Lowdown On The Ambience
Echoes has a beautiful, earthy vibe to it with wooden, brick and stone interiors all coming together. All tables are wooden and the most interesting thing is that all the chairs are different. From steel foldable chairs and wooden chairs typically seen in our government offices to crates with cushions, the varied seating lends to the relaxed vibe of the place. There's a tree made out of wooden planks right in the middle of the cafe. They also have outdoor seating.
Helpful Hands
Before we delve into the food, we must talk about what really makes Echoes stand apart. All their staff is speech and hearing impaired and the whole cafe is designed accordingly. If you need to call a waiter, there's a switch above each table, that lights a bulb with your table number on it up. There are cards that say 'Water', 'Bill', 'Fork', and other basic things that diners are likely to ask for. Everything on the menu has a code, which you can then write down on a notepad to place your order. The whole staff is highly trained and it's a lovely personalised experience. There is a chance you'll want to learn sign language once you visit!
What's On The Menu?
We started off by trying the RedRave shake, a red velvet milkshake, and a Kit-Kat Shake. Their milkshakes are absolutely delicious – thick, sweet and creamy. They're a meal by themselves, to be honest. We then tried the Great Indian Mutton Sausage — sheekh kabab served with some onions in green chutney. Those were soft and spicy as expected. We fell in love with the two thalis we ordered – Classic Butter Chicken Thali that came with perfectly crispy lachcha paratha, and authentic butter chicken gravy, and the Raju Veg Tiffin Service that came with butter roti, fragrant and light peas pulav, the most delicious rajma and a creamy mattar paneer. You might think we were done but the food was so good, we had to try the pizza out. And the Farm Fight pizza was no disappointment, topped with all kinds of vegetables on a thin-crust, all made in-house!
So, We're Thinking...
The food is rich, fresh, and delicious, the staff is so friendly and the experience is one that no other restaurant has to offer. We suggest you go here for all of it.
More Information
Echoes
Nearest Metro Station: Trinity