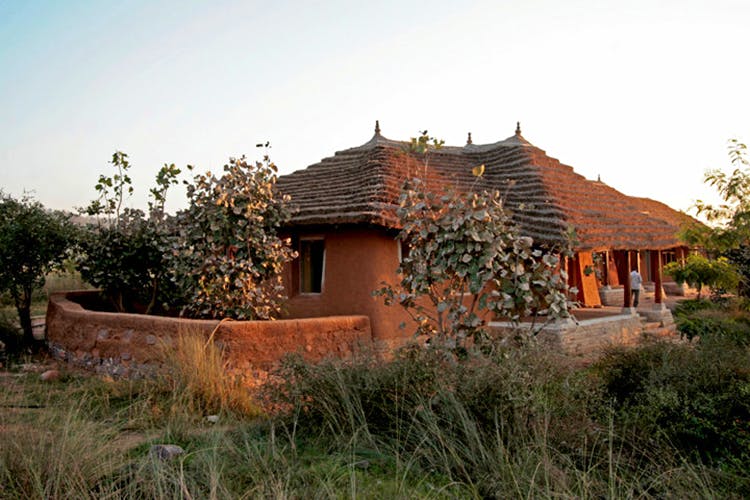 Live In An Eco-Friendly, Luxury Resort In The Middle Of Panna Tiger Reserve
Shortcut
Perched along the banks of the beautiful Ken River by the Panna Tiger Sanctuary, the Sarai at Toria is an eco-friendly safari resort run by wildlife photographer and conservationist Joanna Van Gruisen and Raghu Chundawat.
What Is It?
This luxurious but earth-friendly resort in the heart of the tiger reserve of Panna, this one is all about going local – from food to the material used to make the cottages. And you know it's going to be true to the earth when Raghu and Joanna are at the helm of it. Raghu is considered one of India's foremost tiger biologists and both Raghu and Joanna have worked extensively on documenting and conservation of the Tigers of Panna.
Who Is It For?
Ideal for couples looking for a quiet getaway, or even for friends looking to up the adventure, head here. After all, you can't really get enough of tigers, the wilderness and immersing in nature, can you?
Beyond The Resort
The Sarai is not only a stones throw away from the Panna Wildlife Sanctuary but is also less than an hours drive away from the stunning Temples of Khajuraho, a UNESCO World Heritage Site. It was super convenient base for us to explore the temples, and yet be back in time for a relaxing boat ride down the Ken.
How Was Your Experience?
Spread over nine acres of grasslands, The Sarai has eight spacious and beautifully designed eco-cottages, all built using local materials and methods, which ensures they stay cool around the year. We loved their eco-friendly and local philosophy! All the staff is from the nearby villages and most of the resort is powered using solar power. The absolutely scrumptious meals which were a highlight of our stay are served under a beautiful old tree during the day, surrounded by their organic kitchen garden where most of their produce is grown.
#LBBTip
If you are an animal or nature lover, make sure you have a chat with Raghu, he is an encyclopaedia of knowledge on the jungle.