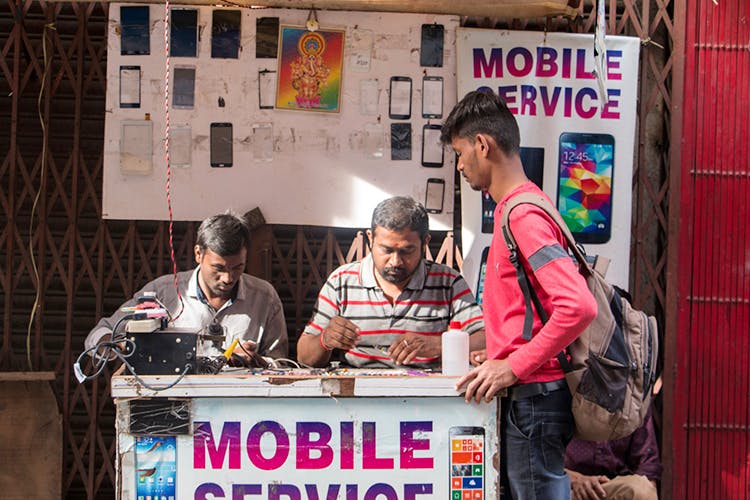 Mobile Repairs To LED Lights: This Electronics Market Near Majestic Will Fix You
SP Road is where the whole lot of old-school Bangaloreans will guide you to when you are looking to get your electronic items repaired or even purchased. This lane, filled with repair shops and retailers, is broadly divided into five wings that cater to specific needs ranging from mobile phones to home appliances. We explored the place for you and here's our guide to electronic shopping!
Home Appliances Wing
The entrance to SP Road (from the Govt. Hospital side) is filled with repair shops that can fix everything from your TV to your mixer grinder. These guys stock up on all kinds of hardware for your home appliances from washers to motors and handles to blades. Avoid the hoards of people by going here around 11 am, 3 pm, and 6 pm,. The rates for a simple service could start anywhere between INR 100 and INR 200. It's usually on-the-spot service for smaller appliances like toasters, mixer-grinders, radios, and microwave oven. Larger appliances could take anywhere between three and seven days.
Mobile And Laptop Wing
Perhaps the busiest area of SP Road, this one is filled with stores dedicated to retail and repairs of smartphones and laptops. These magicians can fix up anything from a cracked screen to battery issues, in a jiffy. Sales folks from the shops on both sides will sidle up to you, offering their services, so don't be afraid to ask straight up which one is cheaper, as workmanship is standard at most of these stores. Just go with the flow and let the boys show you around. Now, mind you, none of these stores are authorised service centres, but they do get the job done. These stores are best for getting your out-of-warranty laptops repaired. Charges start at INR 100.
Office And Camera Wing
Located within the laptop and mobile wing, these are guys deal with all kinds of office gadgets and gizmos. Printers, projectors, PC, and shredders, you name it, these guys have stock. Most of these are either resellers of brands such as HP, Canon, Sony or Panasonic. You can get your devices repaired here too, but again, these are all non-authorised centres. But hey, you can get your printer ink cartridge refilled here, get the toner repaired or the scanner looked at, starting at INR 200 upwards. There are also a couple of camera service centres here. The good folks at Mata Electronics will have your DSLR serviced quickly and at pocket-friendly prices. You can read about our experience here.
Engineering Wing
This is basically where all engineering students head to for getting their project-related hardware equipment. Motherboards, brushless motors, conductors, circuit boards, Raspberry Pi units, LED lights, wires, and connectors are available here. Basically, this is heaven if you like to weld and fix your own electronics. Especially if you want to customise your music system, computer or even your home theatre system. Go get your inventing hat on and shop for a whole lot of accessories and build yourself a robot. The prices start at INR 100 and it's best to go with a list as some of these places don't attend to you if you don't have a list.
Electrical & Hardware Wing
If you are planning on doing your house up with quirky ideas from Nifty and Hometalk, then you are going to find all the things here. Drill bits, DIY tools, electrical hammer, glue gun, or soldering iron — you name it, these stores have it. Just further down from the Mobile and Laptop Wing and next to the Engineering wing, these shops also stock up on high-end hardware and electrical supplies like water motors, mini generators, and car vacuums. Prices here can start from INR 250 upwards.
Comments