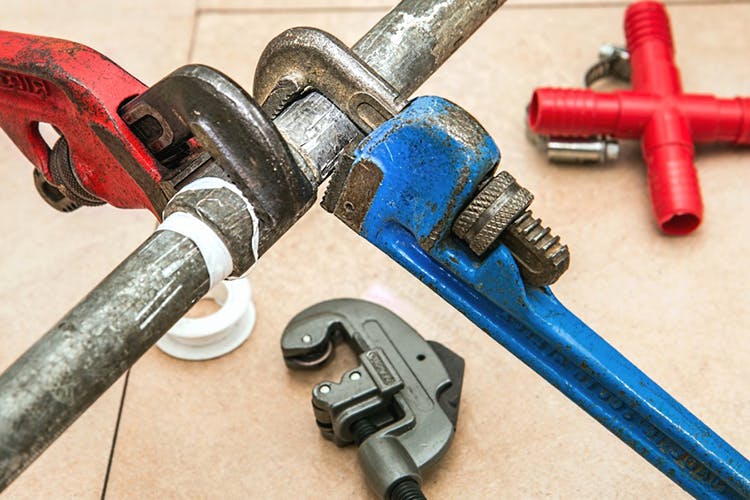 Locksmith, Plumber & More: 5 Must-Have Emergency Numbers In Bangalore For 24 Hour Help
Locksmiths, electricians, plumbers — these are a few of the people that make our world go round. And you never know when you might need them next. So it makes absolute sense to have these lifesavers on speed dial. Day or night, all through the week, here are five emergency numbers that'll get you 24-hour help in Namma Bengaluru.
Electrician - Mawar Electricians
Whether it's a busted geyser or a UPS installation, Mawar Electricians are they guys for the job. On call 24/7, whenever an electrical emergency strikes you, these guys will head on over to your place, wherever in the city, and get your issue fixed. From general electrical services to even wiring your entire place, let these guys take charge and power your home. Checking out their website here.
Contact: +91 9972224488
Plumber - SV Customer Care Support
Leaky faucets and blocked drains shall bother you no more with SV Customer Care Support. Claiming to be masters of plumbing services, these guys will assign a trained plumber to come home and check your pipes any time of the day, all through the week. Check them out here and get all your toilets unclogged, pipes clean and taps running smoothly.
Contact: 08151000009/+91 9379797179
Locksmith - AK Godrej Key Makers
Locked out of home or your car again? No worries, as long as you've got AK Godrej Key Makers on speed dial. The locksmiths guarantee 24-hour service and will come to you and get you out of your fix. They claim to have five units in the city, their main one being in HSR and are certain that they'll be able to get to you, wherever you are in the city. But the further you are, the more it'll cost you.
Contact: +91 9611162718
Pest Control - Miracle Pest Control Services
Creepy crawlies bugging you? Get rid of them right away with Miracle Pest Control Services, that'll keep pesky mosquitos, cockroaches, termites, bed bugs and rats far far away from home sweet home. Available all day, every day, these guys will come whenever and wherever to get the job done. They guarantee that their services are long-lasting and effective, so say your final goodbyes to the bedbugs and cockroaches at home as you're never going to see them again.
Contact: +91 7026027845
House Cleaning - Houzkare
If the in-laws are coming down or you're hosting your boss in the evening, make sure to impress them with a spanking clean home without lifting a finger. Just hit up Houzkare, an on-demand home service platform, offers thorough cleaning services, anytime, any day. From cleaning up your kitchen cabinets to disinfecting your bathroom floors, Houzkare will assign house help that'll get it all spic and span. Check out their services and rates here. If you're looking for other home cleaning services, check out our complete list here.
Contact: +91 9014561111
{Calling all brides {and their tribes!} – From clothes to gifting, get all your wedding inspiration here.#HitchedWithLBB}
Comments