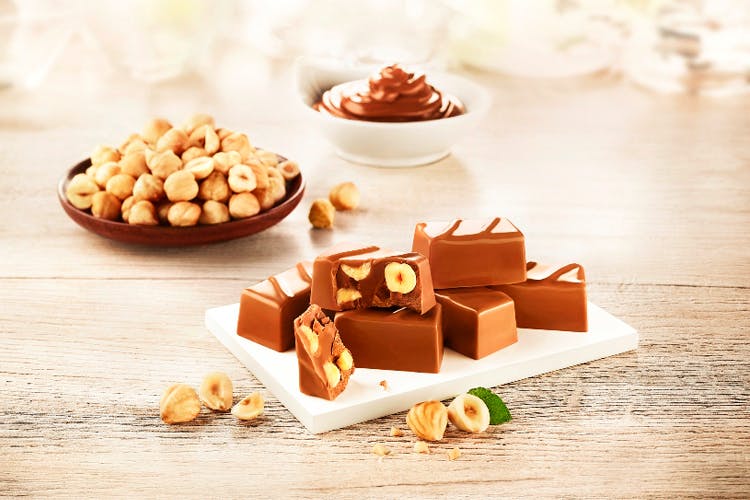 Nearest Metro Station:

Cubbon Park
Chocolate Flower, Nougat And Milk Cocoa: Why ITC Fabelle's Chocolate Boutique Is A Must Do
Shortcut
If you're looking to pick up some decadent chocolates, and at not-so-high prices, ITC Fabelle's Chocolate Boutique in ITC Windsor has an artisanal range to select from.
Chow Down
Chocolate Flower, As You Like It chocolate cups, Chocolate Ganache
Sip On
Milk cocoa with nougat chunks
Winning For
We can't really look beyond the chocolates, so we'll say chocolates!
Lowdown On The Ambience
The boutique is located just past the foyer of ITC Windsor — you'll know where to go, as the aroma of warm chocolate drifting through the air is unmissable. Although seating is limited, the cool Euro cafe vibes made us wish there was more space!
What's On The Menu
Aside from pre-made chocolates, they have a master chocolatier on hand who makes desserts that will appease the chocoholics. If you're looking for something theatrical, don't miss out on their Chocolate Flower, made with 70 per cent dark chocolate — the petals of this dessert unfold when the white chocolate-orange sauce is poured on it! While overall a delicious combination, the pistachio cream in the centre was a bit too sweet. Nothing some Black Forest Revisited with sour cherry confit and Madagascar vanilla bean creme, couldn't make up for. We really did like the elegant twist to this childhood favourite.
You're also not going to want to miss out on their As You Like It chocolates — select from a variety of different fillings like caramel and mint, and toppings like French sea salt and butterscotch nibs… yum! Their master chocolatier will make it right then and there for you, and you can even watch it on a gigantic screen.
Get It To Go
If you're not much of a sweet tooth, skip their desserts and check out their range of readymade chocolates. Their selection of ganache is limited to milk and dark, but melt in the mouth so we'll pop those in all day long! Check out their selection of element-inspired pralines. The Fire chocolate was my favourite, filled with Ancho chilli and tangy mango — it'll actually leave your lips slightly burning, but it's oh-so delicious! They even have a great selection of mostly dark chocolates, which are neither too sweet, nor to bitter.
So We're Thinking…
It's easy to get overwhelmed, but the boutique is quite informative about their products, and the staff are well-versed. We're definitely heading back soon! There's also a boutique at ITC Gardenia that we're dying to visit next!
LBBTip
They have gift boxes that come with a fondue set that won't burn a hole in your pocket.
Comments
Nearest Metro Station:

Cubbon Park