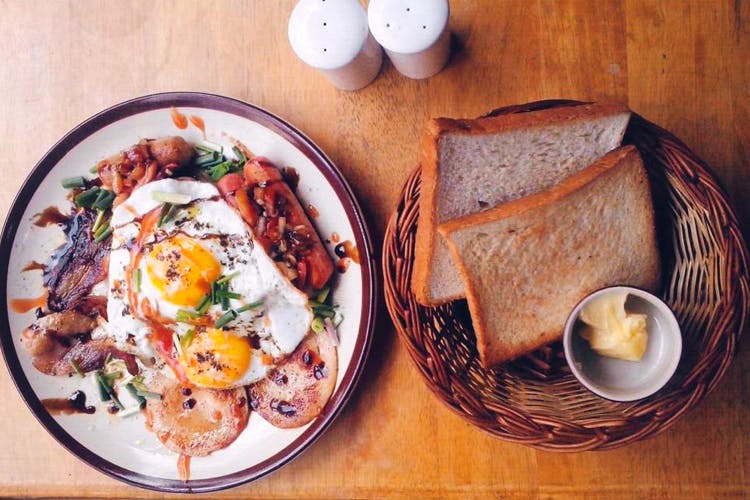 Red Velvet Toast To Sunny Side Eggs: Breakfast Is An All Day Affair At These Eateries In Town
Whoever declared that breakfast was the important meal from the day spoke an absolute truth! It's so important that we recommend that you have it all day (and everyday, if you prefer). And considering that many cafes and restaurants serve up deliciousness in the form of fluffy pancakes, crispy bacon, and creamy eggs are part of their all-day breakfast menu - we don't think we'll have to nudge you very hard. LBB breaks the news on all-day breakfast places in town.
Social
After a rowdy night on the town, head back here for a heavy-duty breakfast. You can eat your way through the Saddlebags offering (pancakes accompanied by bacon, chicken sausages, fried and maple syrup). There's also the masala-happy Irani omelette that comes with sweet bun. And good old Poori Aloo Nastha as well!
A Hole Lotta Love Cafe
Along with its equally famous predecessor, Hole In The Wall Cafe, this place will have you feasting on breakfast all-day long. If you want to keep things straight forward, then, go with the English Breakfast that includes sausages, bacon, fried eggs, baked eggs and the whole nine yards. They also dish out Oreo Pancakes, Red Velvet French Toast, and Pesto Chicken and Cheese Omelettes.

154 Breakfast Club
At this Koramangala dig, you get to tuck into creations like the Meat Your Maker where your plate comes stacked with Sunny Side Eggs, chicken and pork sausages, bacon, ham, Chicken Salami and the list goes on. If you prefer a sweeter meal, then, go with the Nutella waffles or the Choco-Chip pancakes that's served with ice cream.

Smoke House Deli
When you want your breakfast to come with a dash of gourmet, you come here. Their delicately poached eggs come with Smoke Salmon or Creamed Spinach and Roasted Potatoes. Their fluffy Omelettes feature chicken sausages, cheese and ham. For those of you looking to keep things on the lighter side, try the Walnut and Raisin Pancakes and the Amaranth and Flax Seed Granola.
Cafe Terra
With two outlets in the city, this place has established itself as one of the best places for all-day brekkie. The Cafe Terra's Ham Basket comes with a ham basket loaded up with sauteed mushrooms, onions and parsley in cream, and topped with an egg. You can also order up Belgian Crepes, waffles with fresh fruit and ice cream, and hearty Italian Frittatas.

Here & Now
This popular HSR cafe pulls out all the stops for their all-day breakfast offerings. Veggie lovers can dig into the Hash Hotchpotch - hash browns, peas, cottage cheese, corn and a whole lot more. Meat lovers can the Nice To Meat You option that comes with chicken salami, chicken sausages, veggies and eggs. A Braveheart Frittata brings together eggs and bacon. While the Goan Gala puts the Goan sausage in the spotlight.
Egg Factory
Looking for an 'egg'cellent meal? Then, head straight to Egg Factory. You can gorge on eggs done in the way the Turks or the Mexicans or even the Parsis like it. They also have plenty of omelettes that you can pair with the Bombay Style Masala Toast or the Classic French Toast.
DYU Art Cafe
This gorgeous space is a great place for brekkie at any time of the day. For the humble, there's the Simple Breakfast that comes with scrambled eggs, chicken sausages, grilled tomatoes and toast. There's also a full-blown English Breakfast, waffles and pancakes.
Grub Central
A neighbourhood favourite, this place offers a familiar and comforting all-day breakfast menu. You can order up the English Breakfast that comes with all the works. We also recommend the Popeye Omelette - a fluffy creation that's stuffed with, you guessed it, spinach along with cheese and bacon or mushroom. Masala Omelettes and French Toast are also on the list.
Comments