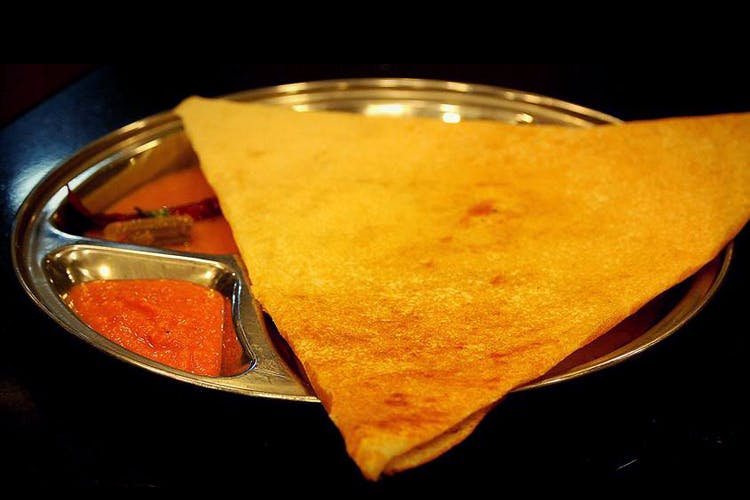 Podi Idlis To Masala Dosa: This Dosa Station In Kalyan Nagar Is Giving Us The Modern Darshini Feels
Shortcut
With a cooking station doling out hot dosas and steamy idlis to everyone around, The Filter Coffee in Kalyan Nagar is switching things up in the darshini circuits.
Dosa Station
Serving South Indian classics from idlis, vadas and dosas to pongal, all served on banana leaves, The Filter Coffee is not your typical darshini-style restaurant. This place is set up with a counter right around their cooking station where you will receive your meal straight from the source. There are also separate tables and chairs set up around the roomy area if you don't want to be that close to all the action. Opening up bright and early at 7 am, this spot is perfect for a quick bite of breakfast or a pre-work cup of coffee.
A South Indian Feast
Their very name is a giveaway of their most popular item, so make sure you've ordered a cup of piping hot filter coffee along with your meal. As far as the food is concerned, there's podi dosa, kotthu parota, podi mini idlis and onion pakodas. Otherwise, stick to the staple and go for the masala dosa or the idli, vada and sambhar combo which is always a winner. Dip into their many kinds of chutneys from mint to coconut, for an extra kick of South Indian flavours. Prices are very reasonable too, starting at a nominal INR 20. We should mention that the place only accepts cash as payment as of now, so you're debit and credit cards are useless here.