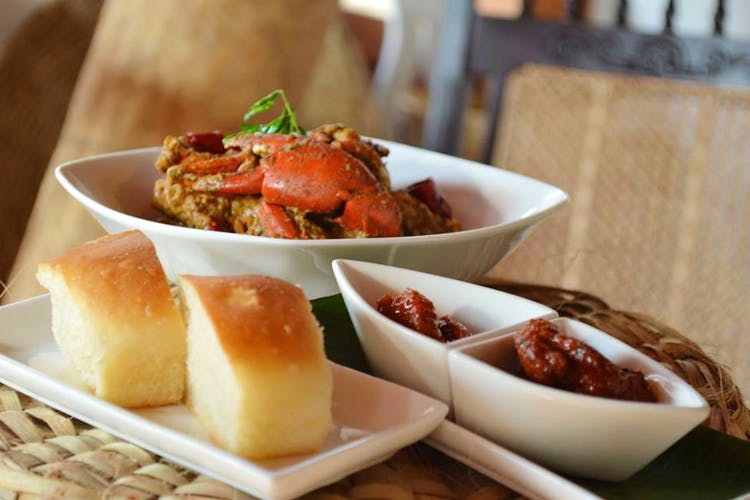 Mussels In Blue Cheese Plus Goan Specials At Fishermans Wharf
Shortcut
The Goan chain has two outlets in Bangalore, bringing in the freshest catch of the day along with a selection of international and Indian cuisine. Apart from a la carte, the restaurant also hosts big lunch buffets priced at a steal.
Chow Down
The Goan prawn curry with rice, Mussels in Blue Cheese, Honey Chilly Chicken and Potato Recheado.
Sip On
Pick a cocktail from their dedicated Mexican margarita selection.
Lowdown On The Ambience
Simple and spacious, the interiors are subdued and give the spotlight to the food. The outlet on Sarjapur boasts of an enormous al fresco space, while the branch on Lavelle Road is completely indoors. Of course, shells of all shape and sizes dot the place.
Coast To Coast
Primarily known for their selection of Goan food, this restaurant takes their catch very seriously — from fresh crab, to lobster and pomfret, diners can order the traditional Goan dishes or ask the chef to customise their order — one of the classic combinations include jumbo prawns cooked with Goan Recheado masala, a tangy red spice paste made of dried spices, red chillies and tamarind. The other popular favourites are the pomfret in butter garlic sauce or the Goan chorizo biryani. They also do a mean mussels tossed in a salty, umami blue cheese sauce.
From The Shore
If you crave something more, Fishermans Wharf also offers oriental, Indian, Mediterranean and continental. Dig into spring rolls, to tandoori chicken or try the ratatouille lasagne and Thai curry. But our recommendation here would have to be the Goan food. We'd suggest ending your meal the Goan way with a hearty slice of Bebinca. A soft pudding stacked up in layers, it is best enjoyed with a scoop of ice cream.
Drinks Ahoy
At the Sarjapur outlet, we could hardly contain our excitement when we saw a bar space with a neon board and menu dedicated to Mexican margaritas. Choose from unusual flavours like the charred pineapple with ginger or pick frozen fruity margarita flavours such as strawberry or pineapple.
Also On The Fisherman's Wharf
Comments