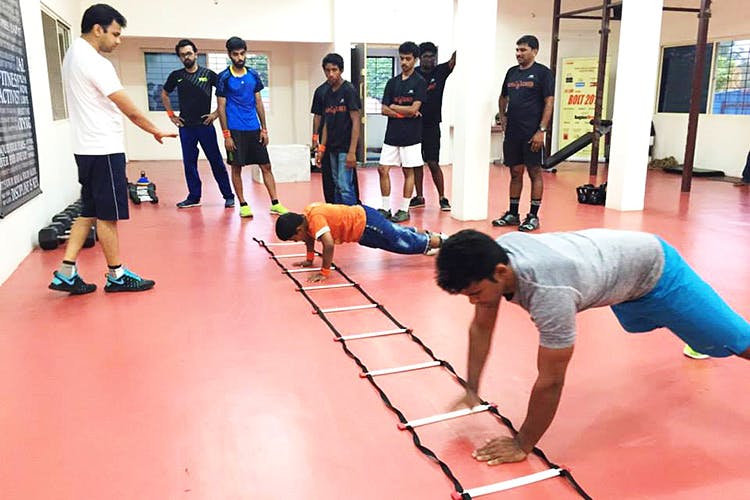 Nearest Metro Station:

Hosahalli
Tone Your Muscles, Become Stronger And Faster With Functional Training At Fit I Am
Shortcut
Forget casual workouts, it's time to kick things off with group challenges, tag burpees and obstacle courses to keep things exciting.
All About Functioning
Started by Dinesh Kumar, this gym is really not your traditional one. Focussing on functional training, they expect you to push yourself to the absolute limit when you're there. So, be it a quick 45-minute workout or an intense two-hour one, you better bring your A-game or expect punishment in the form of burpees! We love that there is a great sense of companionship which automatically means someone egging you to go on while simultaneously teasing you if you aren't performing too well.
Weight, What?
Rather than losing weight, Dinesh and his team will alter your goals to strengthen your body, and get fit. Of course, knocking off inches is a by-product. There are no treadmills, no machines and no mirrors – leave your vanity at home, because it's not about how you look but how you feel. So when you're asked why you are there, don't make the mistake of saying to lose weight. You'll be shown the door! Say, "I am here to get fit, or die trying!". Or something like that!
Stronger, Better, Faster
While at first you will feel like you will fail, and make no mistake, you probably will, post a session here, with heart pumping, you'll feel energised. You will do all sorts of crazy things that weave kickboxing, MMA, rowing, weight lifting and ropes. We love that everyday you face a different challenge and tackle a different muscle group. So if you want to make strength, agility and endurance your BFFs, you better also be ready to make squats, high knee jumps, burpees and dead lifts your friends too. What? Scared? Don't be. You'll soon be part of their tribe and be a star at events such as their main event — a mud slush obstacle course race. After all, at the end of the day, the main machine, your body, will come out the winner.
Price: INR 3,000 upwards per month
Comments
Nearest Metro Station:

Hosahalli