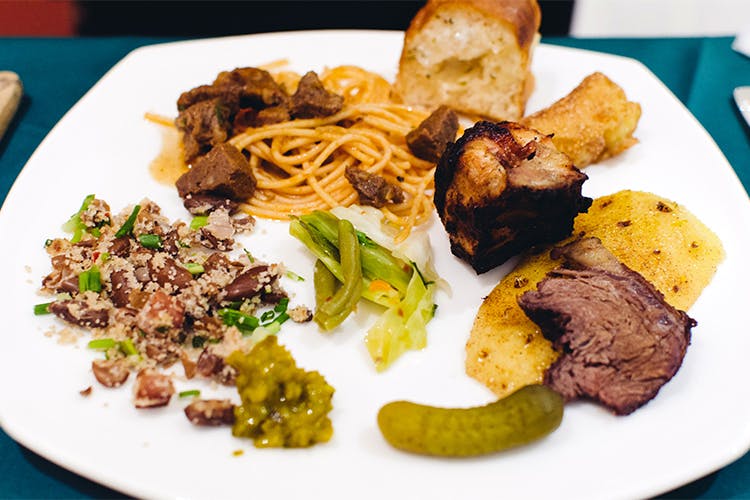 Korean, Egyptian Or Brasilian? Five International Foods To Try In Kammanahalli
Kammanahalli, or if you please Kammanhattan, is home to quite an interesting spread of international cuisines — from the simple Korean kimchi to the more flavourful and wholesome kabsa. We have rounded up the places in Kammanahalli that truly describe its cosmopolitan food scene. The only thing we ask of you is to dig in and enjoy some fab food!
Thran - Korean
Thran is where you need to head to for authentic Korean food. It's run out of a home that's been converted to accommodate the snug restaurant. The menu is something that you will get hooked on from the minute you dig into kimchi and baby potatoes in a sweet and sour sauce. Pork Bulgogi and Chicken Kalgusku come highly recommended, so does the Chicken Kimchi Fried Rice. Thran also has a bakery that stocks up on Sweet Potato Pie, Red Bean Doughnuts and Sweet Custard Breads.
Churrascaria Brasil - Brasilian
It's the city's (and probably the country's) only Brazilian restaurant and it offers authentic churrascaria barbecues in the city. It's mainly for non-vegetarians with the meats (chicken, pork, and beef) grilled and then served to you on a steak board, with the Brasilian-jersey clad serves cutting out pieces of meat for you!
Read more about Churrascaria Brasil here.
Jayma Cafe - Jamaican
If you love Jamaican Jerk Chicken, then you are going to love the menu here. It's OTT Jamaican food that gets the generous addition of the all-spice mix, the jerk, to all their meats. We hear Jerk Chicken Strips and Jerk Sausages are quite the treat. Drop in for their divine and chill Pina Colada as well.
Kabsa House - Arabic
Say hello to the Arabic Kabsa, a massive mound of fragrant rice served with chicken or fish and delicious condiments. You can sit inside or outside under the trees and dig into the family (or a bunch of friends) meal that comes with long grained rice cooked with meat, vegetables and a mix of spices such as clove, black peppercorn, saffron, cardamom, cinnamon and bay leaf.
Read more about Kabsa House here.
Comments