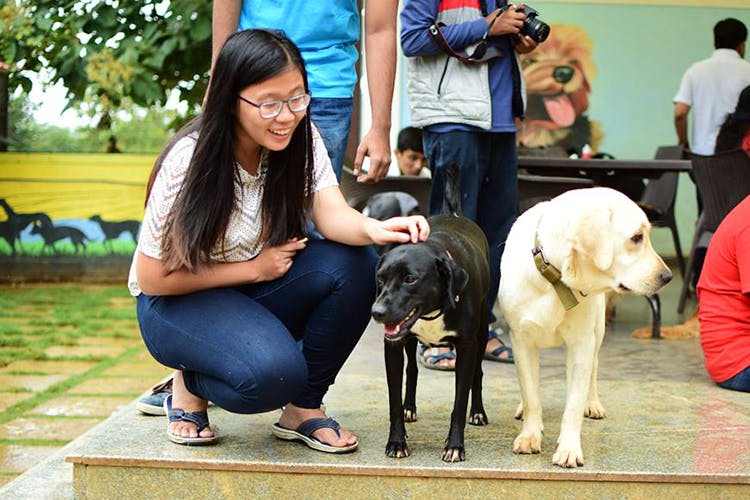 Makeovers To Doggo Cuddles: Five Things In Whitefield You Can Do For Absolutely Free
Whitefield folks, this one is for you, just because we know people from other parts of Bangalore won't bother making the trek. Or maybe they will, given the fact that makeovers and doggo cuddles are in the mix of free things to do in Whitefield. And how free is free? Quite free actually, no catch, no terms and conditions or any loopholes attached to these things. Just go, enjoy and thank us later.
Get A Free Makeover
If you are heading to VR Bengaluru for a bit of window shopping or to check out Muji's new collection, be sure to stop at Nykaa. Every Friday, these guys have a free makeover session between 4 pm and 7 pm. And since Nykaa's range of cosmetics has brands such as Huda Beauty and Lakme, the Friday makeovers are usually in association with these brands. They also have simple makeovers all through the week as well, but that's subject to availability of the stylist. Just be sure to call them up before you head to the store with your girl gang.
Contact: 080 42565730
Watch Movie Trailers On A Giant Screen
If you are in the courtyard of Phoenix MarketCity, then you are likely to spot the giant screen on the facade of the PVR building. The screen plays all the latest trailers and it's better than watching it on your tiny mobile screen. Sure there's no audio, but it's still better than just blankly staring into the distance, while you are waiting for your food Chili's or drinks at Whitefield Social.
Unlimited Doggo Cuddles And Ruffles
One of the major reasons anyone from any side of town that's not Whitefield makes the trek to TherPup is for their doggos. The dog cafe is home to over five adorable doggos who are more than happy get their tummy rubbed or noses booped. Be sure to get a picture with Charlie, the resident doggo and de-facto leader of the pack. He's also their most Instagrammed dog. What better way to spend time than getting some free hugs from these furries.
Get Sporty And Sweat It Out
If you need the motivation to get up and pick some sport, then nothing like paying a visit to Decathlon. They keep having sports events, which you can sign up for, are completely free and their staff is more than just your regular staff. Most of them are sports enthusiasts themselves and they will indulge you in anything from a game of table tennis to shooting a few hoops.
Channel Your Inner Grease Monkey
Biking enthusiasts will have a field day at the garage of IndiMotard. The motorcycle touring company's garage works mainly on KTMs, Royal Enfields, and superbikes such as Ducatis and Benellis, and that's enough reason for you to vroom your way here. The other reason being you can see for yourself how they reassemble everything from a 1000cc engine to fixing a custom exhaust pipe. They don't mind the occasional questions and snooping around, and if Anand Dharmraj, the owner, is there, be sure to ask him about his race track and school. For his tours, you can also read about that here.
Comments