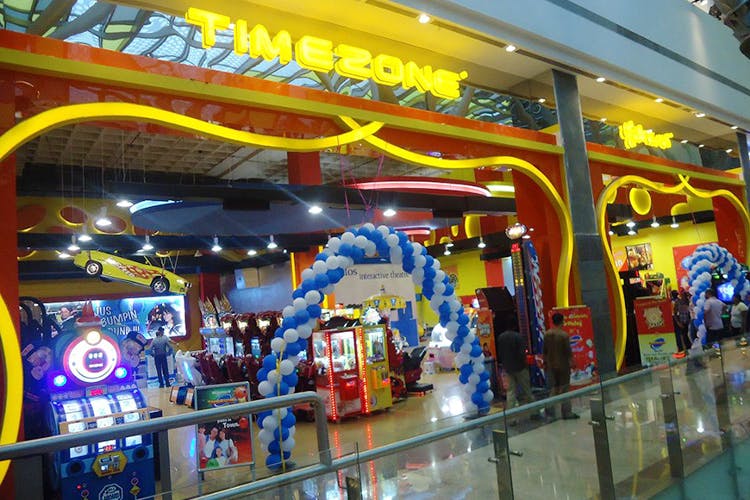 Gaming, Foot Spa Or Bowling: Here's How You Can Amp Up The Fun At Orion Mall
Shopping is fun and all, but have you ever actually noticed how much fun you can have at Orion Mall? Well, we certainly have and so, we're here to tell you how you can dial up the fun when you head here (you're welcome!)

Blu-O
The biggest bowling alley in town, Blu-O takes up floor space on the fourth floor at Orion Mall. It's the perfect place to unwind with your friends, without breaking the bank. Plus, they usually have an offer on few when it comes to bowling or food. All the more reason to set up camp here, we'd say!
Timezone
An entire floor with arcade games, a simulation booth and even old-school multi-level indoor play areas with jungle gyms, ball pens, and slides, Timezone is our personal favourite chill spot at Orion Mall. The best part? You can go here for a date, host a kids' party or bond with friends over a competitive game of Daytona!

PVR Cinemas
With a stellar PVR theatre at the top floor of the mall, it's the best place to catch up on all the latest releases as you binge on tubs of popcorn or nachos. The bathrooms are first class, too. Just in case you want to get that fancy mirror selfie for the 'Gram!

O2 Spa
Self-care is fun, y'all. That's why we're pointing you to O2 Spa. Head here with mum or your BFF, and treat yourselves to mani-pedis, Balinese massages or exfoliating body scrubs. Not only will you feel de-stressed by the end of it all, but you'll be refreshed to continue your shopping at Orion.
Footworks
If you can bear to have a foot massage without dying from laughter (we're sure we're not the only ones with ticklish feet!), just walk into Footworks. They offer foot reflexology services along with back, shoulder and arms massage offers! Need we say more? We know we could use it after all that walking around in the mall anyway.
Comments