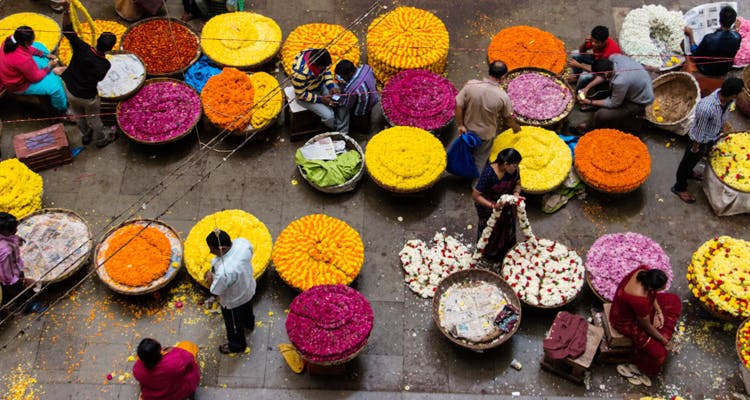 New In Town? Just Work Your Way Through Our Nifty Guide To Bangalore
Newbies in Bangalore tend to feel a bit lost. There's plenty to do, see and discover in the IT capital of the country, no doubt. But what can you explore that suits your interest and quirks, is the bigger and more pertinent question. Well, we have the answers and the good news is that there's something in Bangalore for every kind of personality. LBB introduces you to the unmissable sights and sounds of the city.
For The Trivia Lover
Old-world buildings and bungalows from the British Raj, palaces and gardens from when Wodeyars, Hyder Ali and Tipu Sultan stomped around are all available for your viewing pleasure. Walk around MG Road for glimpses of architecture from the British Raj, including, Mayo Hall, Cubbon Park, St. Mark's Cathedral, and Seshadri Iyer Memorial (State Central Library. See image).
The busy KR Market area is home to a charming summer palace and fort from Tipu Sultan's era. Palace Grounds, a short ride away, is home to the sprawling Bangalore Palace, that's styled after Windsor Castle and was bought over by the Wodeyars. The Devanahalli Fort (close to the airport) is said to be the birthplace of Tipu Sultan and is worth adding to your itinerary.
For The Bargain Hunter
For vibrant wholesale markets, head to Chickpete and the surrounding petes. You'll find narrows lanes crammed with shops lined with antiques, sarees, fabrics, silver, and home linen. Commercial Street and Brigade Road, at the heart of the city, is a great place for street shopping and eye-popping bargains.
For The Beer Guzzler
Bangalore's Pub Capital status is well-deserved, your beer-belly will soon discover. Age-old institutions like Pecos, Chin Lung, and Guzzler's is where you can order up those endless jugs of (mainly, watered down) beer and chomp down plates of kababs. We are also the craft beer capital the nation. We recommend you try brews at Toit, Arbor Brewing Company, Windmills Craftworks, and Biere Club. Your beer gut can thank us later.
For The Tree Hugger
Sprawling gardens and parks are one of Bangalore's best virtues. Nature lovers and birdwatchers can have a ball at Cubbon Park and Lal Bagh. Take in gulps of fresh, unadulterated air while you discover rare plant and bird species. When you are tired, you can park yourself on a bench and watch the world go by.
For The Caffeine Addict
Of course, there are enough cafes and coffee houses doling out a gazillion frappuccinos by the minute, but it's tumblers of filter kaapis that you should hotly pursue in namma ooru. Brahmin's Coffee Bar, MTR, Shree Sagar (CTR) serve frothy, steaming cups of hot, filter coffee that cannot be missed. Check out our pick of where to get your strong, hot and steamy here.
For The Breakfast Binger
Love a king-sized meal at the start of the day? Then, you can go way two ways in Bengaluru. First, the traditional South Indian Breakfast. Golden-brown masala dosas stuffed with spicy potato or vegetable fillings, fluffy idlis paired with spice-filled chutneys, crunchy vadas that you can dunk in flavourful sambhar — it's all there. Second, the grand English breakfast has many takers in Bangalore. Star properties and buzzing cafes stack your table with sausages, creamy mash, baked beans, made-to-order eggs, slivers of bacon and bread. Hole in the Wall Cafe, Cafe Terra, and Smoke House Deli ace the English breakfast service.
For The Bookworm
Bibliophiles are in for a real treat in Bangalore thanks to the handful of second-hand bookstores and libraries. Blossom, a three-storied iconic book haven on Church Street, should be the first stop on your list. Bookworm, in Shrungar Plaza, too stocks up on second-hand novels that you can pick up at throwaway prices. Atta Galatta, a bookstore that's also a performance venue is where you can attend the literary events, book readings and poetry workshops.
For The Explorer
Embark on a temple run and stop by the ISKCON, the centuries-old Someshwara Temple in Ulsoor, and the Bull Temple in Basavanagudi that houses the largest Nandi (a demi-god in the form of a bull who serves as a vehicle for Lord Shiva) monolith. Churches like St. Mary's Basilica, St. Francis Xavier's Cathedral, St. Andrew's Kirk, and St. Mark's Cathedral offer spiritual solace and are worth gawking at. Jumma Masjid, in the KR Market area, was built in the late 18th century and is pretty as a picture with its minarets, domes, walls with floral motifs, and its soaring pillars.
For The Instagrammer
The past few years have seen street artists cover Bangalore's often neglected and bare walls with a riot of colours and interesting artwork. Keep your eyes open, especially around Ulsoor, Church Street, Malleswaram, MG Road, and Yelahanka, for vibrant murals that deserve a dekko.
For The Chowhound
The city's culinary scene has benefited the most from its cosmopolitan status. You can eat your way through the city and discover whole new culinary traditions from all corners of the globe while parking yourself at a restaurant's table. While MG Road, Indiranagar, and Koramangala appease the global palette, neighbourhoods like Jayanagar, Basavanagudi and Malleswaram are where you can explore local flavours.
Comments