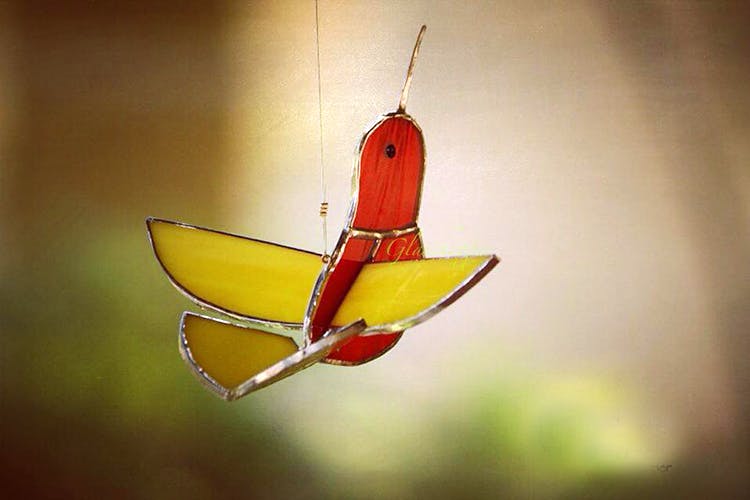 Nearest Metro Station:

Indiranagar
Fill Your Home With Adorable Suncatchers From This Tiffany-Style Stained Glass Studio At Indiranagar
Shortcut
Using Tiffany-style glass as their main medium, Glasshopper brings you dainty little suncatchers in the form of delicate and colourful little birds, feathers and butterflies, to brighten up your cosy space.
What Makes It Awesome
Glasshopper is a glasswork studio in the city that only works with Tiffany-style glass to create cute little suncatchers that are sure to add some colour and life into your home. With intricate craftsmanship and reasonable price range, starting at INR 650, have your very own masterpiece of Tiffany-style glasswork. These little butterflies, birds and feathers, made from reflective glass, catch the sunlight to create what we think would be the visual equivalent of wind chimes. Find these glass babies at the Glasshopper studio on Indiranagar's 4th Main Road. You can also find their glasswork at the fashion store Timri at HAL II Stage, Indiranagar or online.
A trained artist, Saarus Nirhali specialises in the medium of Tiffany-style glass. Using a technique implemented by Tiffany and Co. founder, Louis. C. Tiffany himself, Nirhali is bringing back the art of original stained glass (Tiffany-style). So we aren't talking about run-of-the-mill stained glass here. Still yearn for the Tiffany lamps and big Tiffany glass window panel and don't mind shelling out the big bucks? Get them done here as well. Saarus does coloured glass panelling for doors and windows, and also makes Tiffany-style lamps that are bound to turn few heads.
Pro-Tip
Glasshopper also makes a range of map necklaces, that allow you to wear a literal map of your town or city around your neck. And they start at a very affordable INR 300. Perfect for gifting, eh?
Comments
Nearest Metro Station:

Indiranagar