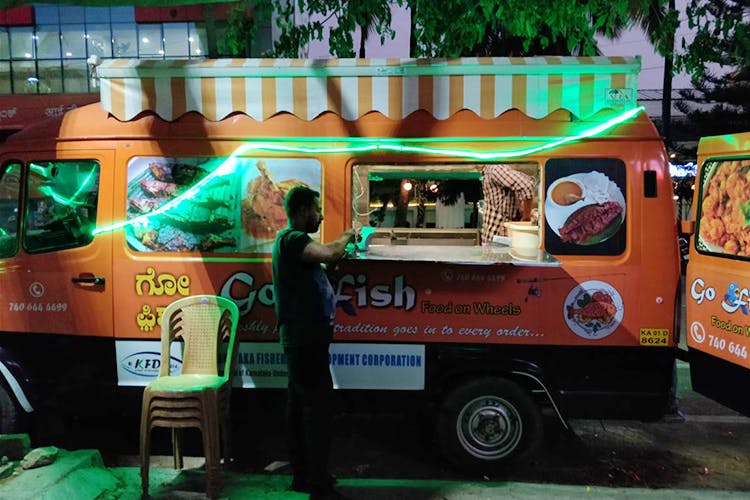 Prawn Biryani To Fish Kebabs: Something's Fishy At This New Food Truck On New BEL Road
Shortcut
Can get enough of seafood? Then pay a visit to Go Fish, the newest food truck in town that exclusively serves yummy seafood dishes. Hello, fish kebabs!
Fish It Out
Parked at New BEL Road, Go Fish is a cute little food wagon that's easy to spot as it's roped in green neon lights and dons a cheerful orange paint job. An undertaking of the Karnataka Fisheries Development Corporation, the food truck serves up a seafood storm with eats like Bangda Fry, Prawn Biryani and Fish Kebabs on their chalkboard menu propped up right outside. Pair all that fishy goodness with a neer dosa or white rice, also on offer, and you've got yourself a solid meal. We went for the Fish Kebabs, which were nice and crispy on the outside, but soft and succulent inside, with just the right kick of spice. For INR 135 a plate, their portions are reasonably generous and perfect as a snack for one.
The truck is parked on 80 Feet Road in RMV's 2nd Stage, not too far away from Cafe Centralis, and you can hit them up any time between 5pm and 10pm daily. With a meal for two only setting you back by INR 300, load up on these fishy delights without burning a hole in your pockets. We can't wait to try the prawn biryani next.
Comments