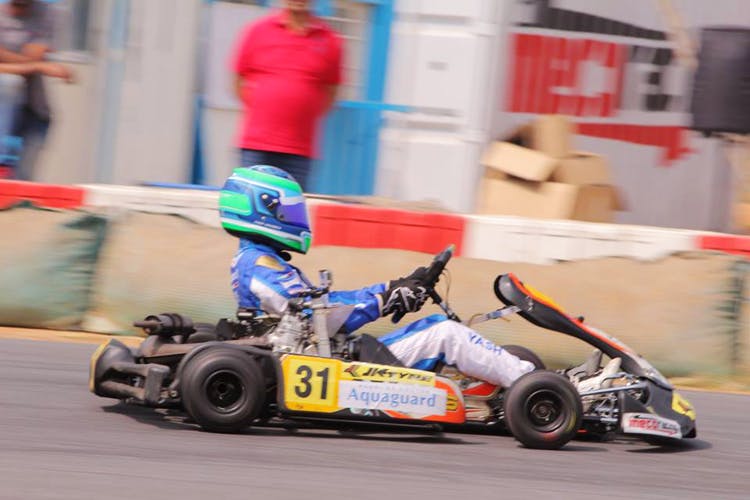 Ready, Set, Go: Get On The Right Track At These Go-Karting Arenas In Bangalore
If you are the kind who loves zipping down roads in your car with not a care in the world, then Bangalore's unbearable traffic must surely disappoint you (a lot!). And with all your dreams of ruling the city's roads all but shattered, it may be time to hit the go-karting tracks to experience the Formula One-esque thrill. Perfect for a weekend outing, go-karting makes for a fun activity to enjoy with your gang of pals or your family. LBB makes a pitstop at the best go-karting arenas in Bangalore so you can chase the chequered flag.
Torq03
Located inside the E-Zone club, this arena boasts of one of the longest track in the city. And since the track is flexible, you can experience a new thrill every time you vroom into the arena. We also love that they have special karts for the kiddies. The adults can pick from a range of karts depending on your level of expertise. If you consider yourself a go-karting pro, you can drop in on the first Wednesday of each month to try your luck in a racing competition.
Raceway Motorsports
Want a budget-friendly go-karting experience? Then, you've come to the right place! You get plenty of bang (or laps) for your buck. The track is done up colourfully and through small offers plenty of thrill. This track is good for adults (with and without go-karting experience) and also for kids. Also, they have a Raceway Cafe where you can fuel after burning rubber.
Grips Go Karting & Bowling
One of the main reasons for the popularity of this arena is that they have a wide variety of karts that are suited for every kind of driver. If it's your first time, then you can pick the 6.5 BHP kart and if you are an expert, hop into the Pro Kart. Once you've chosen your ride, you can snake your way through the challenging bends and curves on this one. And if you fail miserably at it, just hit the bowling alley close by.
Meco Kartopia
Just a little more than a year old, Meco Kartopia has become a favourite with go-karters because of their top-notch facilities. Their Rotax Karts are super-fast and their track is made for pros. While they welcome newbies with open arms, it is those of you who are looking to turn your passion for go-karting into a profession that need to swing by. They also offer training programmes if you are serious about the sport.
Comments