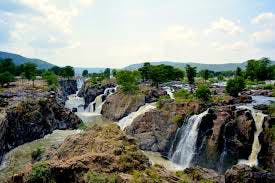 Looking For A Quick Getaway?Head To Hogenakkal Falls For The Perfect Weekend
What Makes It Awesome?
We made a random plan and decided to visit this place from Bengaluru. We left around 5 am as we wanted to skip the traffic. Midway, we had amazing homemade breakfast at a roadside joint. Post which we reached Hogenakkal falls. What is it about? Called as Niagara Falls of India, it lies in Karnataka as well as Tamil Nadu district. We can take a boat ride (coracle) and reach the falls. Also, there are a few spots where people can go inside and take bath. How to reach? We went by our private car, plenty of parking is available. Not sure about the government buses but they would be available up to a certain point. When to visit? Best time to visit is immediately after monsoon when there is a lot of water in the falls. What to eat? There are freshwater fishes available which the locals will roast and serve you. Also, small eateries are available in abundance. The boats are safe as we are provided with jackets and locals are experienced in them.
Also On Hogenakkal Waterfalls