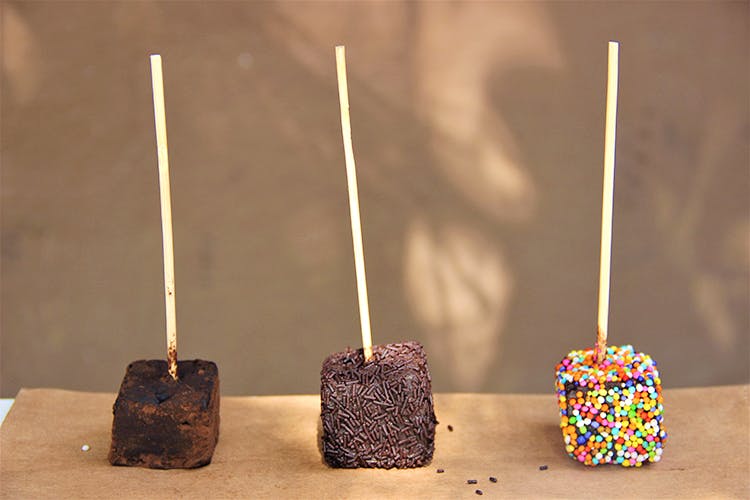 Salted Caramel To Cocoa Dust: This Brownie Shop Does 15 Kinds Of Gooey And Fluffy Brownies
Shortcut
If you love brownies, we've got some great news for you. Gooey And Fluffy is a brownie shop that exclusively makes just brownies, and these guys whip up a whopping 15 varieties.
What Makes It Awesome
Brownies are love, brownies are life. So when we heard of Gooey And Fluffy, a brownie shop based out of Thippasandra, we just had to check them out. Exclusively working with just brownies, Gooey And Fluffy, really pushes the bar and experiments with a whole range of flavours. No really, the brownie shop currently boasts of 15 kinds on its menu. Broadly divided into three categories, you can find berry brownies, nutty brownies and chocolate brownies on offer here.
They claim their most popular variety is the Salted Caramel Brownie, and we get why. With a drizzle of caramel sauce, the saltiness was a nice break from the chocolatey brownie bits. The Mocha brownie is another standout, with its slightly bitter notes that any coffee lover will appreciate. Other options include cranberry, blackberry, cocoa dust, walnut and rum and raisin brownies. Can't make up your mind on which one to try? Buy an assortment of minis which are bite-sized brownies in a whole bunch of flavours.
This is a delivery only joint that delivers in and around the Indiranagar area as of now, but Dunzo should take care of the distance problem, we think. All their brownies are priced between INR 89 and INR 109 a piece. They even take up party and office orders, where you can get your brownies customised for the occasion. After all, any celebration could use some gooey and fluffy brownies.

Comments