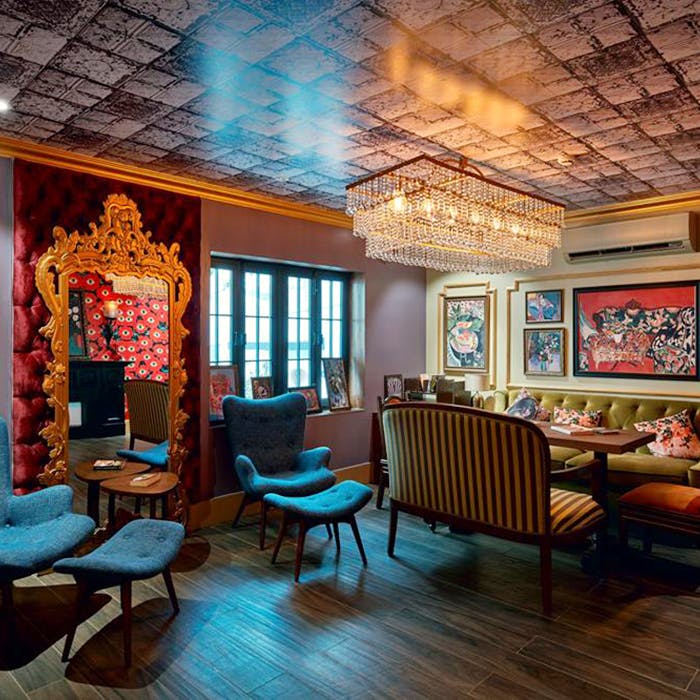 Drink Till You Drop At The Best Bars In Marathahalli
Marathahalli folks, if you thought you had to go all the way to Indiranagar to enjoy a drink (or ten) after a long day at work, think again. The Outer Ring Road that runs through Marathahalli is now an explosion of restaurants and nightlife spots. Here's our guide on the best bars in the area to go unwind with your friends and enjoy great music.

Foxtrot
A rooftop gastropub, Marathahalli's Foxtrot is perfect to take your squad along to try the tapas and sharing platters. Not to mention their fun bar menu that has on offer quirky cocktails like Pop! (their homage to popcorn) and Mug-a-ritas, and Loaded Popsicles (read: boozy). They also have live music, a dance floor and karaoke nights for you to let out your inner diva.

Bold
Spread across a massive 10,000 square feet, Bold is a colossal party space that's takes up two levels. If you're just looking for a laidback guzzling session, stick to the first floor. For a full-on party scene, head to the upstairs section where there's a dance floor and a rooftop bar area that's done up in happy colours. From the bar, we loved the Badass (Bailey's, whiskey and beer) and enjoyed bar bites like Beer Batter Fish and Jalapeno Cheese Bombs.

Dive
Find Ibiza in Marathahalli with Dive Bar's open-air seating, aquarium dancefloor (yes, you read that right!) and flambe cuisine menu. The whole bar's theme revolves around water, so there's plenty of blue going on with the decor. Oh, and there are even mattresses and bolsters on the floor, to add to the beach vibes. Drink cocktails like Achy Breaky Heart, Slippery Navel or drown yourself in an LIIT that comes in a fish bowl! Pair any of these with Coffee-Infused Lamp Chops or even lobster, and you're set for the night.

Boozy Griffin
Head to Boozy Griffin in Marathahalli for that unmistakable English pub vibe, exposed brick layout and huge vintage clocks! There's even a London-style phone booth in case you want to make an important phone call. Order from their expansive cocktail menu and set the night rolling with drinks like License To Kill or Whisky Paralyzer (if you're feeling a bit adventurous!). Munch on Chicken Cigar Rolls or Chicken Krack Jack to add some crunch as you sip on your cocktail.

TBC Sky Lounge
A gorgeous rooftop space with plenty of plants and pretty lighting, To Be Continued is the perfect place for a date night or to head with your squad to catch the latest sports tournament on their large LED screens. They have all day happy hours offer (11 AM to 7 PM), where you can buy four for the price of two! If you go later in the night though, we'd suggest getting an LIIT and some Peri Peri Chicken or Nachos to go with it.

Flechazo
If you've had a humdrum of a week or are on a budget crunch, hit up Flechazo. At the moment they have plenty of offers going on, including one for the world cup (buy 2 get 1 free on select drinks) and 'pub packages' like three pint beers for INR 699. And if you thought that was awesome, just know that their buffet spreads include plenty of Mediterranean and Asian delicacies (and even liquid nitrogen ice cream!) to lift up your spirits.
Comments