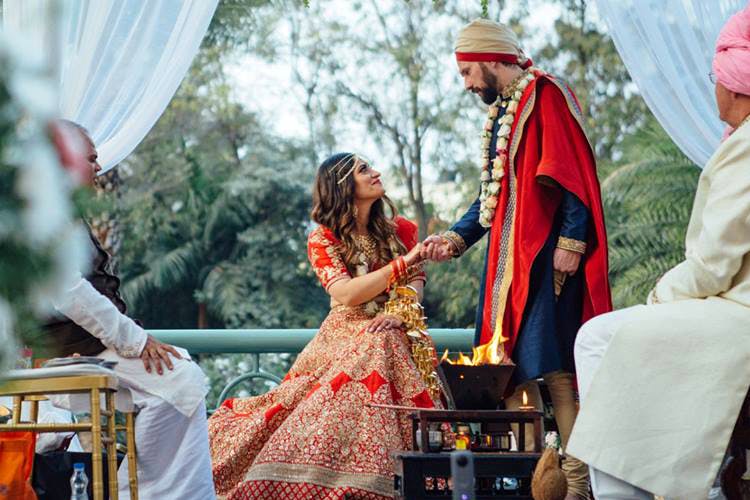 Getting Married Soon? Our Guide To Planning The Perfect Wedding
Wedding season is right around the corner, and we all know when it comes to the big day the devil is in the details. The Herculean task of planning a wedding (or agreeing to a plan that makes everyone happy) starts months, and sometimes years before the actual date. The Bangalore weather is bringing out the romantics in us, and we thought we'd give you a head start on the planning whether you want some no-fuss nuptials, or want to recreate a Royal Wedding.
Wedding Planners To The Rescue
The plan leading up to and the day of the wedding will make or break the significance of your big day (and your sanity!). For a glamorous yet elegant affair, our pick is Bling It On. We love that they create magic for whatever outrageous or minimal theme you want to go with! For a more low-key yet Pinterest worthy event, check out Canvas, for everything from the mehendi to the reception.
Get the deets on more planners here.
Location, Location, Location!
Location is everything especially if you're looking at doing something that's not run of the mill. To please the  aunties and uncles, pick a traditional yet intimate spot. We're thinking, for some great #weddinggoals pictures, Ganjam should be your go-to venue. Non-conformists  can tick off all your whims and fancies at The Courtyard House. Of course, we haven't forgotten those who want serious and simple wedding, for which you can check out these banquet halls here.
For more venue ideas you can check these out.
Nail The OOTD
Can't imagine you'll ever wear the wedding outfit(s) again? You can rent an outfit for your (or your BFF's) wedding, cocktail, sangeet and everything in between at Kyasa. Men, there are plenty of online rentals stores that ensure that you look dapper without breaking bank. All you brides to be planning to have a big fat Indian wedding can check out Armadio for gorgeous lehengas, Kanakavalli for exquisite sarees, or Elan if you're having a white wedding. For ladies with time on their hands and looking for DIY options, definitely make your way to Mysore Saree Udyog and select all the elements of your outfit in a myriad of options. Walk down the road to pick up blouses for a steal at LB Prakash. Those on a tight budget, check out our loot from Commercial Street here.
You can find more options for bridal stores here and here. Or just check out our handy guide.
Wake Up And Make Up
To perfectly complement your perfect outfit, accessories are paramount. Bridal jewellery is big business, and Book My Jewels doesn't disappoint when you're not looking to buy any. If you are, rest assured you'll find something at Bhavani Kangan Store's extensive collection. South Indian brides looking for bespoke bridal braids should definitely check out Moggina Jade to be the belle of the ball. Since spending the day all dolled up can take a toll on how you look, keep your make-up on point through the day, and hire Dev for that fresh, no-makeup look. Some of us would prefer if we could have one person do it all for us, and just breathe, and we know just the one! Call Uma Jayakumar, and she'll have your saree  draped on point in a minute!
For the whole package, you can find more here.
Pics Or It Didn't Happen
After all the effort and planning involved for your big day, is there any point if those special moments haven't been preserved for posterity? Most event planners have the option of including photography services for the event, especially if your venue itself is Insta-worthy. Pre-wedding photo shoots are all the rage, channel your inner royal at Jaymahal Palace  or a have an easy breezy outdoorsy photo shoot at The Tamrind Tree. Not convinced? Check out our fav picturesque spots in the city , and one of them will definitely have you dialing one of these guys for the job!
Invites and Gifting
Go hard or go home while planning your wedding, but going home after the wedding will be that much sweeter for guests when you make them also feel special on your special day right from the invitations. For weddings that will be remembered, send out Perfect Invites (or e-vites), or turn up the quirk factor With Love From Su. After all the festivities, if you've still got a lot of love to share with your guests (or bride tribes and best men) check out Footprints Forever, Vintage Notes Papery, or R Square Designs.
For more themed gifting ideas you could just head to Chickpete, or discover more here.
Comments