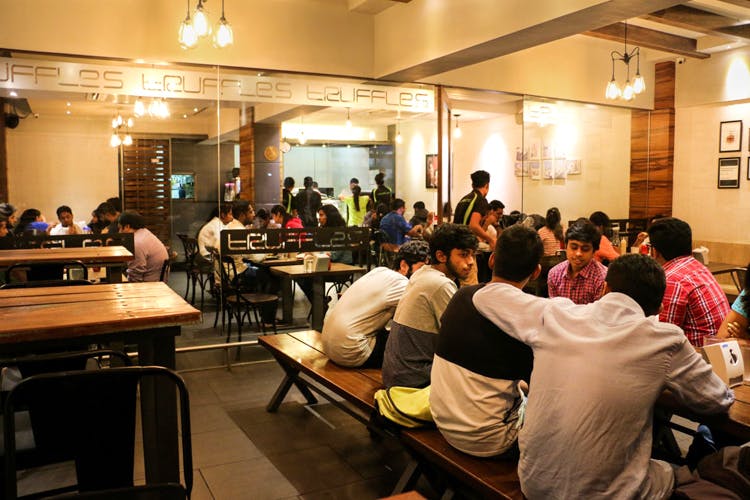 #AskALocal: Author Andaleeb Wajid On Her Favourite Hangout Spots In Koramangala
Right from the time I was studying in Jyoti Nivas College, I've always been a huge Koramangala fan. In fact even before I joined college, it's been one of my favourite localities in Bangalore. I don't know why. So I was most thrilled when we moved here in 2008. Of course, the landscape of the locality I knew a decade ago as a college student had changed hugely. The tiny Sukh Sagar diagonally opposite college where we would sometimes go and eat Gobi Manchurian and watch pet rabbits frolicking around had gone. In fact, that very stretch of road along JNC is unrecognisable to me now. There were newer landmarks though. And these I adopted with the excitement of a resident who knows that good things are in store.
Atta Galatta
I've always referred to Atta Galatta as my home away from home and I'm not exaggerating. Lakshmi and Subodh are two of the most gracious people I've met and I've held numerous book launches and workshops there and hope to continue doing so. Every time I go there and see college kids reading quietly at the tables, I'm wistful and wish there was a space like this when I was studying here. I would have been here all the time.
DYU Art Cafe
When Cafe DYU came up, right down the road from where I live, I was intrigued. It looked like a traditional house that you'd come across in towns and villages and the facade was lovely. I took my boys there to check it out and was pleasantly surprised at the warm ambience. Although I no longer consider myself a harried mother, I'm generally an impatient person but it's the kind of place that lets you soak up the peace and relax. Their homemade cakes are yum and their hot chocolate is a favourite.
Truffles
A couple of years ago when I joined the corporate world once more, my young colleague turned good friend Pooja was amazed that I'd never been to Truffles even though I've been living in Koramangala for so long. It was an eye opener for me to see the queues there and the crowd of people thronging outside. Truffles has moved to a newer, bigger location right opposite the old space now.
The Edge
A firm family favourite is The Edge ice cream parlour, where we visit often. While my family sticks to their usual sundaes, I always try and experiment. Not too far away is Berry'd Alive which is a dessert lover's haven. I'm trying out everything on their menu too!
New Arife La Moulde
For a baking aficionado like me, discovering Arife La Moulde was such a relief, and it's all thanks to my sister-in- law, Anjum who also enjoys baking. It's right here in 7th Block Koramangala and any time you go there, you will find it jam packed with other bakers, browsing through the various aisles of goodies. Extremely helpful and courteous staff make it a pleasure to shop there.
Comments