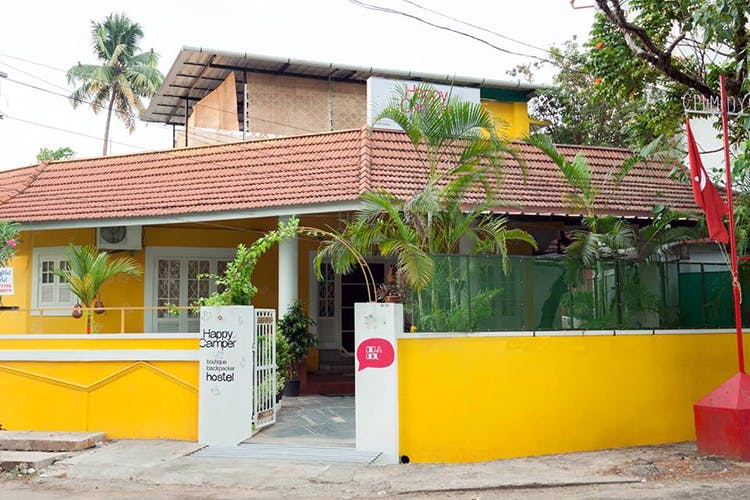 Happy Camper Hostel In Kochi Is Perfect For Backpackers And Costs Only INR 550 A Night
Shortcut
Happy Camper Hostel in Fort Kochi is perfect for solo travellers or for those on a tight travel budget. A convenient location, great room prices and all kinds of basic amenities, make this hostel a perfect budget option.
They Were All Yellow
Happy Camper is located in the heart of Fort Kochi, easily accessible to the beach and other tourist attractions and restaurants around it. It is perfect for backpackers, solo travellers and for those looking for quick weekend getaways, but on a budget. Walking into Happy Camper, you're greeted by an expanse of yellow, along with a load of art on the walls and pillars. The interiors are quite quirky, one wall is done up with a map of the area surrounding Happy Camper. But yellow is the underlying theme here, with the walls, inside and out and even the bunk beds being painted in this cheery colour! The hostel provides comfort and convenience, with cheap prices and a friendly ambience.
Expect a common room with cable TV and access to a computer with scanning and printing facilities. There's also some hammocks to relax and chill on. You can even play some board games here or hang out with a book in their library. There's an attached cafe that serves food from 8 AM to 5 PM.
Pocket Happy
The hostel has three rooms, with eight bunks in two rooms and four in another. One room is exclusively for ladies and all bunks come with a bedside lamp, plug point, pillows and sheets. All rooms are air-conditioned and come with an attached bathroom. There's complimentary breakfast included in the package. A room costs INR 550 per bed, per head. There's luggage storage, towels, bed linen, and you even get kitchen assistance if you're up to some cooking.
Happy Camping!
Head to the nearby Kashi Art Cafe for their modern European fare and wicked chocolate cake. If you're thinking about venturing outside the homestay, walk to the nearby Fort Kochi beach and relax in the sand. Visit the Jewish Synagogue, the oldest active prayer house in the Commonwealth of Nations. Take in Kerala's architecture by a trip to the Mattancherry Palace and explore its large number of murals of Hindu culture.
You can book a room here.
Check out their Facebook page here.
#LBBTip
The cafe is closed for now but will open in the first week of August.
Comments