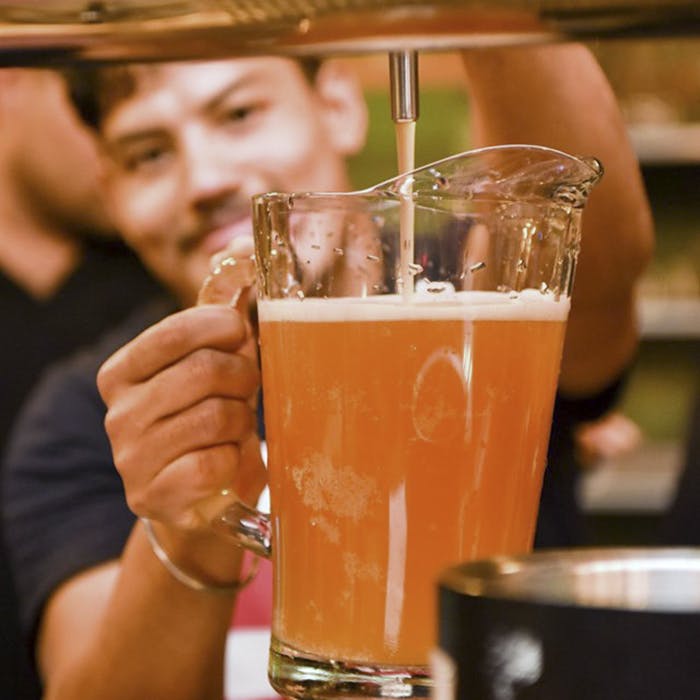 Drink Away The Hazy Times With These Happy Hours In Koramangala
In a day filled with worries, hang out at these pubs in Koramangala to finally experience some happy hours. Maybe getting sloshed to outrun your troubles isn't the best solution. But if you're going to do it anyway, you can at least strike financial woes off that list, with these happy hour offers in Koramangala. Cheers!
Brooks & Bonds Brewery
This brewery in the heart of Koramanagala is the place to be for any event. Their chilled beer and finger food will cool you down on hot summer days, after a hard day of work. If you're into fruity beer, their mango cider beer is your friend. Their happy hours last from 12PM-6PM, offering 2+1 on drinks.
Boho
This chic, bohemian styled pub offers so much energy with their splatter of colors, spread across their interiors, and their swagger music. The whole vibe of the place ought to put you in a funky groove. They offer happy hours all day on Monday and Tuesday, which should help you kick off your week with a bang, and from 12PM-5PM ,Wednesday through Friday.

Simon Says Brew Works
Simon Says, this is the microbrewery for you! Their in-house craft beers, eclectic food menu and lively ambience makes Simon Says Brew Works a great place to hang with any crowd -- your colleagues, friends, run-away brides. Their happy hours offer 1+1 on all liquor, all day on Mondays and Tuesdays, and from 12PM-7PM, Wednesday to Sunday.

Gilly's 104 Bar
The most happening place in Koramangala, Gilly's 104 Bar, guarantees that you run into a lot of familiar faces. Ensuring a lot of great memories, granted you don't black out, Gilly's offers happy hours everyday between 12PM and 7PM.
The Reservoire
A great place for fine dining and fun meet ups, the Reservoire is house to most college students and corporate employees. Serving multiple cuisines and artisanal cocktails, it also caters to a wide taste. The exquisite interiors of the restaurant, is truly a sight for sore eyes. They offer happy hours on cocktails, beer and hard liquor from 11PM- 8Pm on Mondays and Tuesdays, and from 11PM-6PM from Wednesday to Friday.
House Of Commons
If you're looking for a laid back evening to kick back with your buddies, House of Commons is exactly what it sounds like. A pub that serves reasonably priced drinks, with a great ambience for all kinds of crowds, the House of Commons offers a night to remember and perhaps, even a night you'll forget. They offer happy hours everyday till 7PM, and various other offers, at that.
Harry's Bar + Café
Located right in front of Forum, Koramangala, Harry's falls short in no aspect. With great food, ambience, music, and drinks, all priced at a layman's range, once you go here you'll be hooked, so tread lightly. If that wasn't enough, they offer happy hours everyday from 12PM to 9PM on their drinks.

Comments